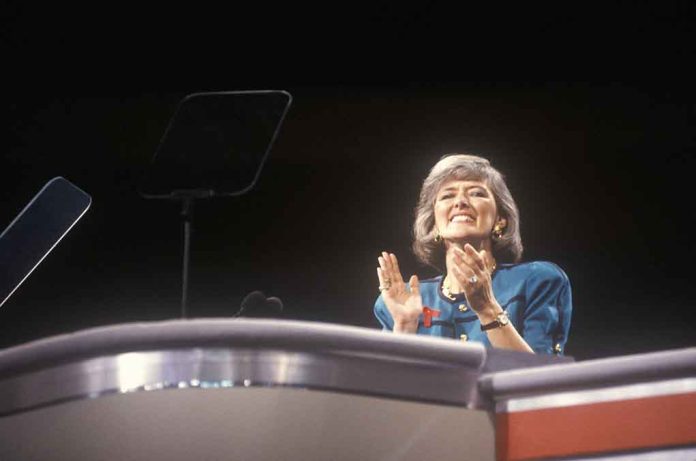 (StraightNews.org) — Former Colorado Rep. Pat Schroeder has died at the age of 82. The Democrat's former press secretary said she passed away on March 13th at a hospital in Celebration, Florida, following a stroke. In a tribute the following day, President Biden said, "On issue after issue, Pat stood up for basic fairness, sensible policy, and women's equal humanity. The result was a legislative record that changed millions of women's lives — and men's lives — for the better."
Schroeder was best known for her activism in support of women and families and has been described as using unorthodox methods to have her voice heard. When she left Congress in 1997, she published her memoirs which were entitled, "24 Years of Housework … and the Place is Still a Mess: My Life in Politics."
She was first elected to the House of Representatives in 1972 and was re-elected 11 times throughout her career. She frequently complained about the power of donors and in 1994, climbed to the top of the Capitol building dome and unfurled a 15-foot banner with the word "Sold" printed on it. She was the first woman to sit on the House Armed Services Committee and was reportedly told that, as a woman, she should only occupy half a seat.
Born in Portland, Oregon, in 1940, Schroeder was a graduate of the University of Minnesota and Harvard Law School. She was also a pilot who funded her Harvard education by operating her own flying service.
She taught a course in the Politics of Poverty at Princeton University after her time in Congress but continued to be politically active and said that politics was in her blood. She campaigned for Hillary Clinton in 2016. It was Schroeder who first labeled Ronald Reagan "the Teflon President" as she said he had an uncanny ability to avoid blame.
She is survived by her husband James whom she married in 1962, her two sons, and four grandchildren.
Copyright 2023, StraightNews.org