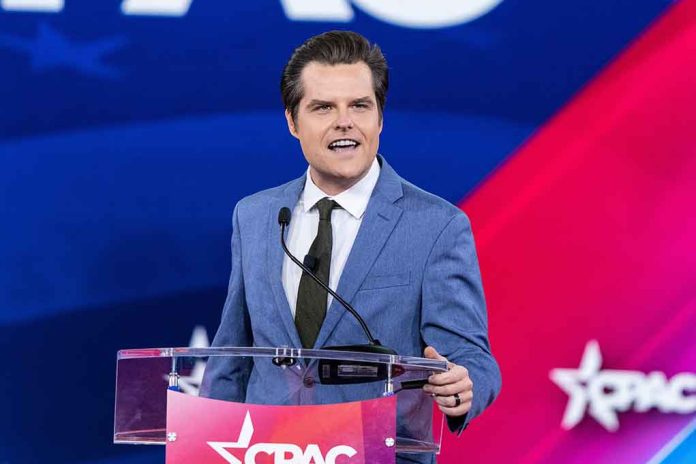 (StraightNews.org) — Republican Rep. Matt Gaetz called Fox News hosts "childish" for suggesting a romantic relationship between him and New York Rep. Alexandria Ocasio-Cortez (AOC). The two House members, along with others, introduced a bipartisan bill to prevent members of Congress from trading stocks while serving on Capitol Hill. Host Greg Gutfeld said, "I smell a romantic comedy."
He went on to joke that the two Congress members would meet in the comedy, fall in love, and "somehow make it work."
Matt Gaetz and Alexandria Ocasio-Cortez recently collaborated to introduce the Restoring Faith in Government Act. The Floridian noted that he and Ocasio-Cortez probably think the other is wrong on a lot of issues, but "she is not corrupt," he said.
The bill would ban Congress members from trading in stocks, something they are permitted to do even if they are voting to regulate companies they have interests in.
Gaetz said it is vital that people in Congress can work together for the good of the country and dismissed the commentary on Ocasio-Cortez as childish and sexist. "The media always has to oversexualize everything that AOC is involved with. They wouldn't do that to men," he said.
Ocasio-Cortez delivered a speech in 2020 condemning sexism in Congress, having been subjected to a slew of insults by Republican Rep. Ted Yoho. Yoho referred to Ocasio-Cortez as "crazy," "disgusting," "out of her mind," and "a f***ing b*tch." Ocasio-Cortez said she would not wait for any apology.
Floridian Matt Gaetz also lashed out at Jeanine Pirro, who suggested she officiate at the wedding of the two lawmakers. He said she ought to know better than that, and her behavior was shameful.
Gaetz married Ginger Luckey in 2021. He said the behavior of the Fox hosts was made worse because it insulted his wife. Alexandria Ocasio-Cortez became engaged to her longtime partner Riley Roberts in 2022. He appeared in a documentary about the couple in 2018.
Copyright 2023, StraightNews.org