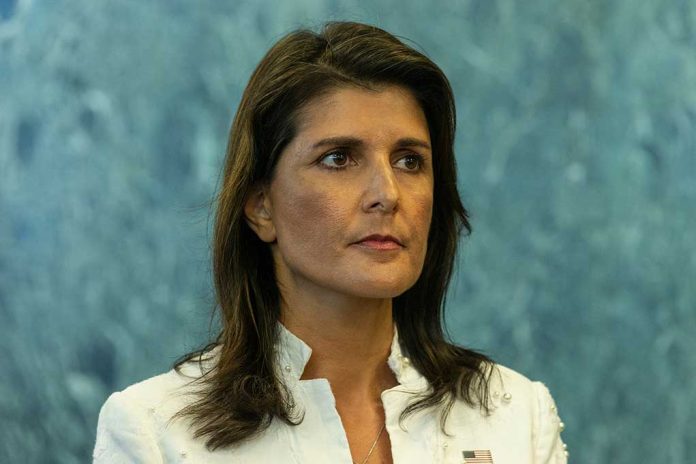 (StraightNews.org) — Presidential hopeful Nikki Haley has called for mental competency tests for politicians aged over 75. Haley was speaking at a rally in South Carolina where she kicked off her 2024 campaign for the White House. The comments will be widely seen as a dig at both her former boss Donald Trump, who is 76, and the current President Joe Biden, who is 80. "In the America I see, the permanent politician will finally retire. We'll have term limits for Congress and mental competency tests for politicians over 75 years old," she said.
Haley may be seizing upon growing concern surrounding the age of both the President and Donald Trump. Polls show that the majority of Americans, including Democrats, do not want Joe Biden to run for the White House in 2024 and his age is the primary reason – he will be 82 when the next President is inaugurated. Trump will be 78.
The President's cognitive abilities also come under the spotlight when he appears to slur his words or commit embarrassing gaffes. Biden has been widely mocked for public mistakes and the media has been quick to highlight these. Newsweek, for example, ran a feature on the gaffes he made in 2022. These included saying "Iranian" instead of Ukrainian, and reading teleprompter text aloud. One of the more controversial moments was when he appeared to forget that Representative Jackie Walorski had died. Biden called out to her from the pulpit during a speech, despite the fact she had been killed in a car crash months previously. He has been seen looking confused as to where he is supposed to go, referred to Kamala Harris as the President, and on one occasion, appeared to try to shake hands with a person who wasn't there.
Nikki Haley announced her intention to enter the 2024 race in mid-February but has not yet managed to gather support beyond single digits. She is 51 years old.
Copyright 2023, StraightNews.org