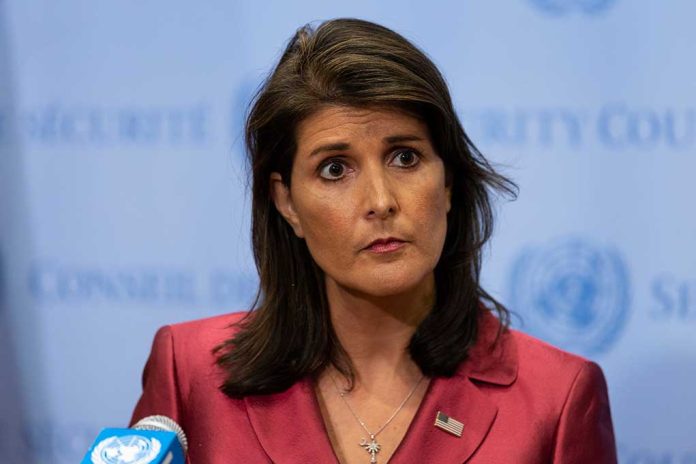 (StraightNews.org) — Former US Ambassador to the United Nations Nikki Haley has hinted that she may run for the White House in 2024. Having previously said she would not stand against Donald Trump, Haley now says that Washington needs a new generation of younger leaders to take the country forward. "I had a great working relationship with the [former] President. I appreciate all the foreign policy issues we worked on together. But what I will tell you is, the survival of America matters. And it's bigger than one person. And when you are looking at the future of America, I think it's time for new generational change," she said.
In 2024, Joe Biden will be 81 years old while Donald Trump will be 78.
Once a close ally of President Trump, Haley fiercely criticized him following the Capitol Hill riots of January 2021. She said he had let his followers down and that people should not have listened to him. She added that she felt he had no future in the GOP.
The news comes as former Secretary of State Mike Pompeo accuses Haley of plotting with Ivanka Trump and Jared Kushner to become Trump's Vice President in his upcoming memoirs. In his book, Never Give an Inch: Fighting for the America I love, Pompeo says Haley "played" Trump's former chief of staff John Kelly, and brought Ivanka Trump and Kushner to a meeting intended to be a one-on-one session with the President. "As best Kelly could tell, they were presenting a possible Haley-for-Vice-President option," Pompeo wrote. Adding that Kelly was certain he had been played.
The former Secretary of State also accused Haley of abandoning Trump, as well as the people of South Carolina. She resigned as Governor of that state in 2017 to become UN Ambassador.
Haley described Pompeo's claims as "lies and gossip to sell a book."
Copyright 2023, StraightNews.org