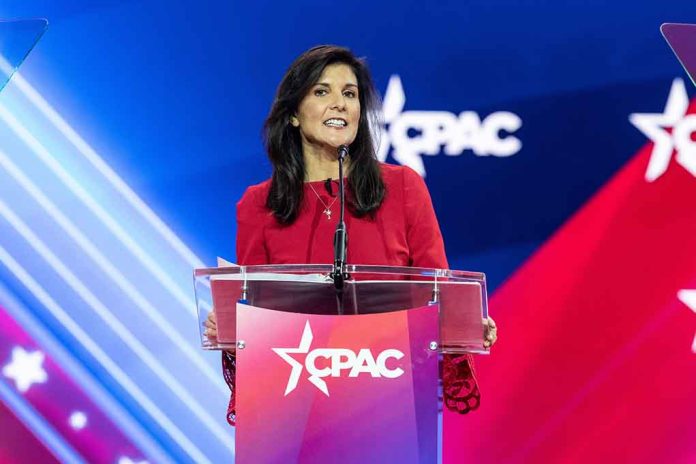 (StraightNews.org) – Republican White House candidate Nikki Haley has come out fighting against illegal immigration. The former South Carolina Governor said the border is a top priority for her as she described in detail what she will do to tackle unlawful migration should she be elected to the Presidency.
Haley said she would put an end to the practice of releasing migrants into the US interior, reinstate the Remain-in-Mexico policy which made migrants stay south of the border while waiting for immigration decisions, and even build a wall across the US boundary – a policy synonymous with Donald Trump. She also said she plans to visit the Texas border in the coming weeks. 
Drawing on her record as Governor of South Carolina, the Presidential hopeful said she would implement similar migration policies nationwide, including a bar on companies hiring illegal aliens. "We did a mandatory E-Verify program that said none of our businesses could hire anyone that was in this country illegally," she said, before adding, "every state is a border state." 
Born in South Carolina to Indian immigrants, Haley is relatively unknown in the Republican party, though some believe this may be to her advantage as she has the opportunity to define herself throughout her campaign and comes with very little baggage. Immediately after announcing her candidacy, 62% of Republicans said they had a positive view of her, compared to only 11% who didn't. 
Haley did stir some controversy at the start of her campaign by taking a swipe at the age of both front-runners for the Oval Office. Her comments that Washington needed younger leaders led to a national conversation about the fact that so many on Capitol Hill are aged over 70. Trump, the Republican front-runner, is 74, while President Biden is 80. A CBS poll in 2022 showed that the majority of Americans agree with Haley on the issue of age – almost three-quarters believe most politicians serving in the Capitol are simply too old and age limits should be imposed. 
Copyright 2023, StraightNews.org