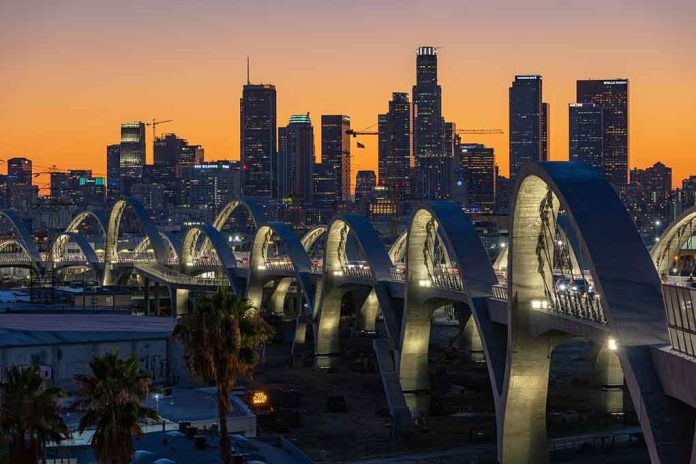 Half-A-Billion WASTED – Authorities Forced To Shut It All Down!
(StraightNews.org) – Crime has surged in many areas across the country, and law enforcement has had to answer the rising calls. In Los Angeles, authorities recently found themselves faced with another monumental challenge. Police have now closed a newly-opened bridge linking the city's Boyle Heights to the downtown Arts District after it prompted too many illicit activities during its first weeks of use.
On Sunday, July 10, the $588-million Sixth Street Viaduct Bridge opened to the public, and people quickly flocked to it for racing, viral internet stunts, and climbing its archways. To combat these criminal acts, authorities began shutting down the overpass nightly. Still, on Tuesday, July 26, the Los Angeles Police Department issued a social media statement announcing it would close the structure.
LAPD News: The 6th Street Bridge will be closed until further notice due to illegal activity and public safety concerns.

— LAPD HQ (@LAPDHQ) July 27, 2022
Police have already issued dozens of citations and impounded at least six cars in recent days, according to CBS News. On top of this, the city is installing speed bumps, a center median, and a fence to help mitigate crime going forward. Yet, many residents are skeptical that these mechanisms will keep illegal endeavors at bay.
If authorities cannot figure out how to fix associated problems, this bridge may become a historic waste of money. What measures do you think would help curb the issues with LA's latest landmark?
Reply to your email or send a message to today(at)straightnews.org to let us know what you think.
Copyright 2022, StraightNews.org