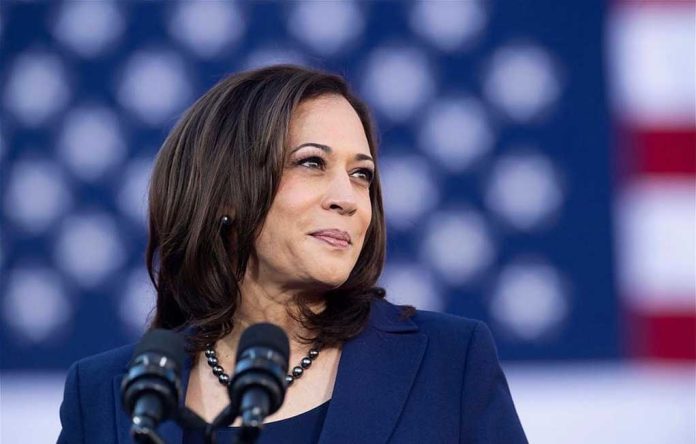 (StraightNews.org) — Vice President Kamala Harris has topped a poll of Democratic voters asked to name their preferred nominee for the White House in 2024. The result may be significant because previous surveys have shown that a majority of Democratic voters do not want to see Biden re-enter the Oval Office after the next election. Former Presidential candidate Hillary Clinton was in second place.
The Premise poll of 2,194 people saw Harris on top with 32% and Clinton trailing at 19%. Both are far out ahead of other potential candidates. Pete Buttigieg, the current transportation secretary, is in third place at 11%. Other individuals named are Gavin Newsom at 10%, Alexandria Ocasio-Cortez at 8%, Elizabeth Warren at 6%, and Stacey Abrams at 5%. J.B. Pritzker, Governor of Illinois, and Minnesota Senator Amy Klobuchar came in at 4% each.
President Biden has not formally declared his intention to run in 2024 but his State of the Union speech on February 7th was seen by many as the launch of his campaign. He has received widespread praise for the speech from within the Democratic Party. Following the address, Former House Speaker Nancy Pelosi said, "I'm for him if he runs. I know that the Democrats will fully embrace him. If he runs, it's over."
Despite Pelosi's confidence, the President may face an uphill struggle to win over Democratic voters. Several surveys in 2022 showed a lack of enthusiasm for Biden, and the latest poll by Associated Press-NORC Center for Public Affairs Research reveals just 37% are supporting him.
Approval ratings were also low for both the President and Vice President as 2023 got underway. In January, President Biden's approval rating was 42.9%, with Harris at only 39%.
On the Republican side, the contest is largely between Donald Trump and Ron DeSantis at present. The former President saw a drop-off in support in 2022, with enthusiasm for DeSantis on the rise. In the latest poll results, from early February, the Florida Governor is 9 points ahead of Trump among Republican voters.
Copyright 2023, StraightNews.org