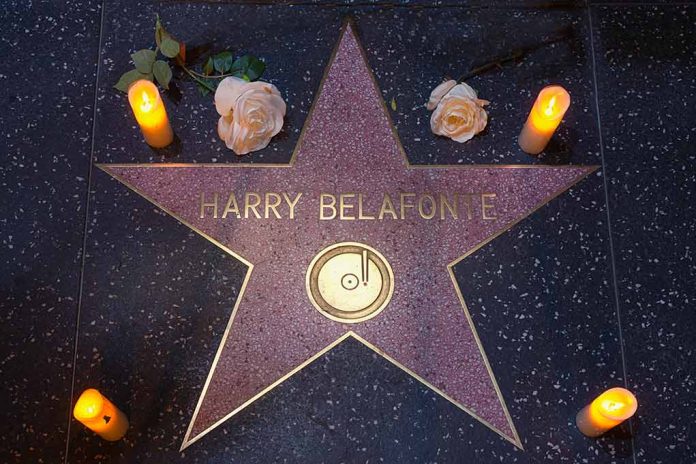 (StraightNews.org) — Singer and civil rights activist Harry Belafonte died at his New York home. He was 96 years old. His wife was by his side. Belafonte is best known for working alongside Martin Luther King in preparing his "I Have a Dream" speech in 1963. In addition, he organized the USA for Africa single "We Are The World" and had a smash hit with "Banana Boat (Day-O)" in 1956.
Belafonte was born in Harlem, New York, in 1927. His Jamaican mother took him to the Caribbean as a child, thinking it would be safer for him. In Jamacia, he discovered calypso music that would influence his later musical career. He moved back to the US with the outbreak of World War 2 and enlisted in the US Navy. He served for two years as a munitions loader in New York. Leaving high school early because of dyslexia, he found work as a caretaker's assistant and worked for a packaging company in the city.
While doing maintenance work at a theater, he discovered the entertainment industry and joined the Dramatic Workshop of the New School of Social Research in 1945. He studied alongside stars including Marlon Brando, Bea Arthur, and Tony Curtis. His musical life developed here, and in 1953, he signed with the record label RCA Victor. He released his first album the same year.
The Tony and Emmy award winner met Martin Luther King in the early 1950s, and the pair developed a close friendship. He was a committed civil rights activist and participated in the famous 1963 march on Washington, the era's most significant civil rights protest.
Former President Barack Obama led tributes to Belafonte when his death was announced on April 25th. He was also remembered by Vermont Senator Bernie Sanders and Oprah Winfrey, who said, "Thank you for your music, your artistry, your activism, your fight for civil rights and justice. Your being here on earth has Blessed us."
Copyright 2023, StraightNews.org