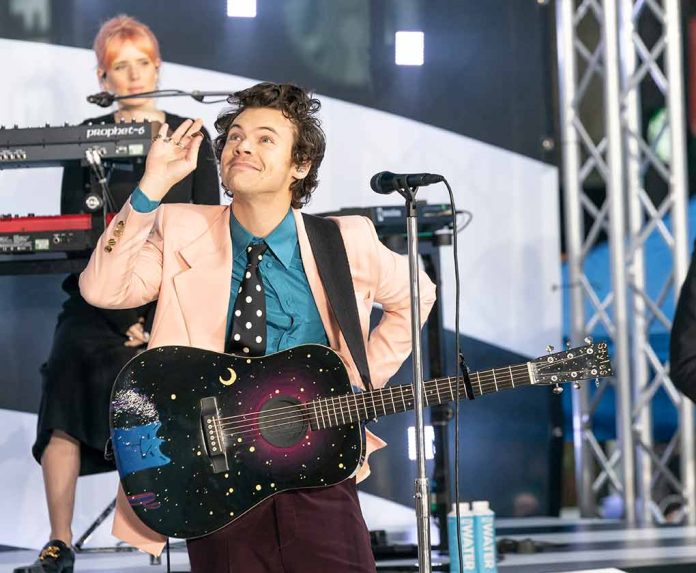 (StraightNews.org) – A flying object once again struck singer Harry Styles during a conference in Vienna, Austria. The 29-year-old performer was seen grabbing his forehead in pain and bending over, before re-composing himself and continuing. The incident was one of several that Styles has endured during his singing career. In Los Angeles last year, he was hit in the eye when a member of the crowd threw Skittles on stage. The candy's producers afterward took out a full-page newspaper ad that read, "Protect the rainbow. Taste the rainbow. But please, don't throw the rainbow."
While audience members have long thrown items on stage, such as female lovers of Tom Jones who threw their underwear at their heartthrob, artists today say instances are on the rise, and objects more hazardous than underwear are hurtling toward the stage.
Singer Bebe Rexha suffered bruising and cuts to her face during a New York performance in June. A fan threw a cell phone and hit the star in the face. Clips show Rexha falling to the floor before being helped off stage and taken to hospital. New York Police Department arrested 27-year-old Nicolas Malvagna in connection with the assault.
In a bizarre incident during a concert in London, singer Pink was interrupted when a bag of cremated human remains landed at her feet. She picked up the bag, examined it, and turned to the fan asking, "Is this your mom?" It later transpired that the deceased's daughter had decided to take her mother's ashes to places she might have enjoyed when she was alive.
Flying items are now so common that British superstar Adele threatened her Las Vegas crowd, saying she'd kill anyone who hurled objects at her. Holding a T-shirt cannon, she said "I dare you to throw something at me," followed by, "Stop throwing things at the artist." She then fired t-shirts into the crowd and said, "But you can shoot things at the audience."
Copyright 2023, StraightNews.org