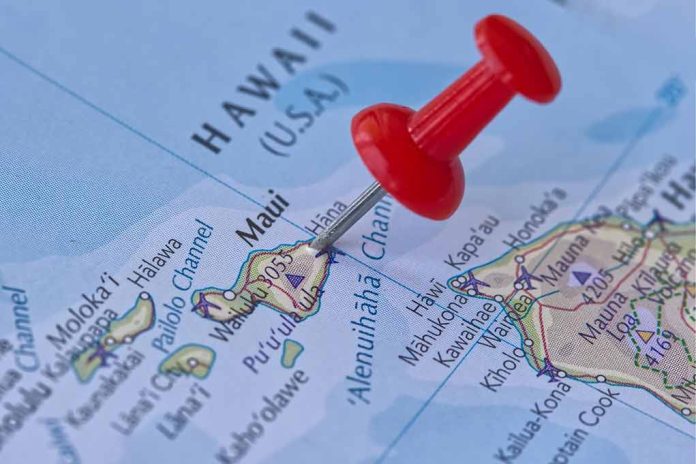 (StraightNews.org) – A family in Hawaii has erected a sign asking tourists to stay out of their neighborhood. The Lazo family has lived on Maui for ten generations and represents a growing number of locals frustrated that tourists continue to arrive to take pictures of the devastation caused by wildfires in August. One family member said, "You have tourists taking pictures of the destruction in Lahaina while there's still bodies there."
The Lazos live in Lahaina, the worst affected part of the island. Two million tourists visit the city yearly, but now it is left devastated by wildfires that have destroyed 80% of the area and left thousands homeless. Courtney Lazo told ABC News that local people needed time to grieve, and tourism to the area felt like a "slap in the face."
The Hawaiian Tourism Authority posted a message on Twitter asking travelers to stay away from Lahaina but emphasizing that people are still welcome in other parts of Hawaii. Several fellow Twitter users reacted with anger to the request. One poster wrote, "The locals have made it very clear they do not want me or anyone not native there. And tell them to do us a favor, NEVER come to the mainland." Another said it was unreasonable to restrict travelers in a state that depends almost entirely on tourism.
The worst US fires in a century began raging in Hawaii on August 8. Aided by hurricane winds, the fire spread rapidly without warning and wreaked devastation, particularly in Lahaina. More than 100 people died and many more remain unaccounted for.
The cause of the fire and the reason for the apparent lack of preparedness have led many to speculate that the disaster was orchestrated to usher in a digital city in place of Lahaina.
Meanwhile, President Biden's response to the tragedy was condemned by Democrats and Republicans alike. The President said "no comment" to reporters when the disaster unfolded and made only limited funds available for families affected.
Copyright 2023, StraightNews.org