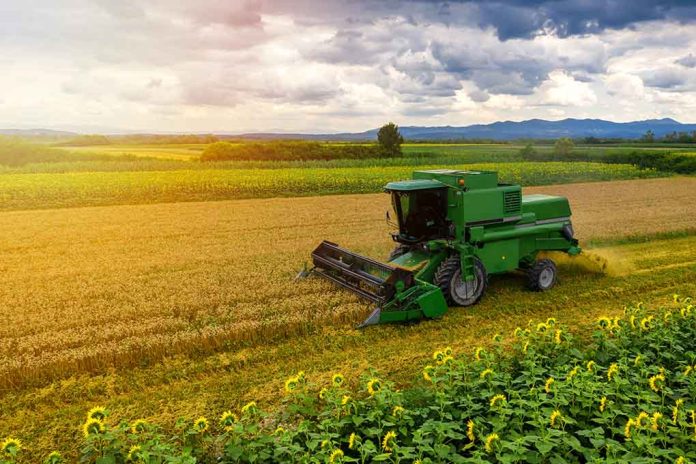 (StraightNews.org) — Senator Josh Hawley (R-MO) has said he plans to introduce legislation that would prevent Chinese corporations from buying American farmland. His announcement comes only days after US forces shot down an apparent Chinese spy balloon that had made its way from Montana to the Eastern Seaboard. The Chinese insist it was merely a weather balloon flown off course, however, the incident has brought China back to the forefront of the minds of many Republicans, who already distrust the communist nation.
On his Twitter account, Hawley said, "What is abundantly clear after Biden's Chinese spying debacle is that no Chinese corporation should be permitted to own American farmland. I'm introducing legislation to stop it. Protect American farmers."
His concerns have been echoed by fellow Republican and Governor of South Dakota Kristi Noem. She said that individual states need to "step up" and defend American interests against China. She has proposed similar legislation to create a state-level Committee on Foreign Investment in the United States and has received support from members of the State House and Senate.
Next door in North Dakota, officials voted to strike down a Chinese corn mill proposition following warnings from the US Air Force that it would pose a security risk. The city council of Grand Forks voted unanimously to halt the proposal and were greeted with chants of "USA" when they did so. China has however been able to purchase the land on which the site was to be built, but Grand Forks Council will deny any necessary planning rights. The Fufeng group paid $2.3 million for 300 acres just miles from the Grand Forks Air Base.
House Majority Leader Rep. Steve Scalise (R-LA) said it was ridiculous that local officials had to step in to prevent China from buying up land so close to US military installations. He accused the Biden administration of weakness and said we must secure American farmland as part of our broader national security measures.
Copyright 2023, StraightNews.org