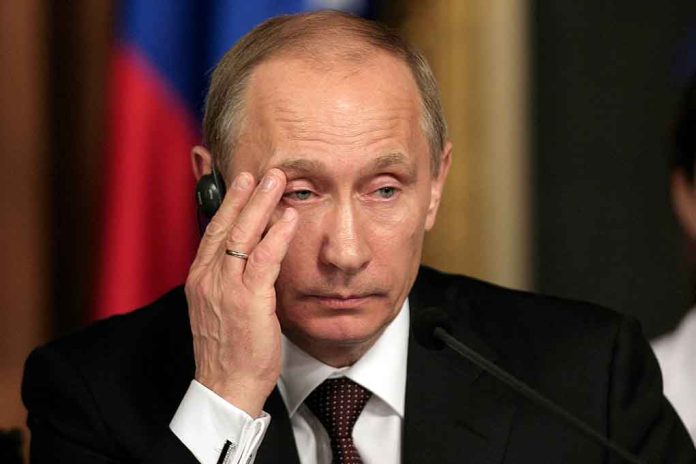 High-Ranking Russian Officials Call For Putin To RESIGN
(StraightNews.org) – After over six months of war, Russian President Vladimir Putin has little to show for his aggressive push into his neighboring country, causing many top-level officials to cast doubt upon his abilities as a leader. Now, multiple high-ranking officials are calling on the Kremlin to resign.
On Monday, September 12, a deputy from St. Petersburg's Semyonovsky District shared a petition signed by officials from 18 different districts in Russia calling for Putin to resign. It also asked others to join if they felt so inclined. Now, over 84 Russian municipal deputies, including some from Moscow, the home of the Kremlin, have joined in the cause asking the leader who has previously cracked down on dissent to step down.
At last! More than 30 Russian municipal deputies have signed a petition calling for Putin to resign. #StandWithUkraine 🇺🇦 https://t.co/02MzL0ly3v

— Amy Siskind 🏳️‍🌈 (@Amy_Siskind) September 13, 2022
The petition does highlight that it does not want to "discredit" anyone, as it has been a previous charge against others who have spoken out against the war. However, it also called Putin's leadership "hopelessly outdated" and one that would "impede the development of Russia and its human potential," according to a translation by the New York Post.
In recent weeks, the Ukrainian army pushed Russian soldiers out of much of the 1,000 square kilometers of the territory they previously held. This change, on top of the countless casualties and enormous economic burden it placed on the country, has some Russian officials at the end of their rope.
As Putin now faces diminishing morale among his soldiers and more public pushback about his war, it leaves him with some tough choices ahead. What do you think about these Russian officials boldly calling for Putin's resignation?
Copyright 2022, StraightNews.org