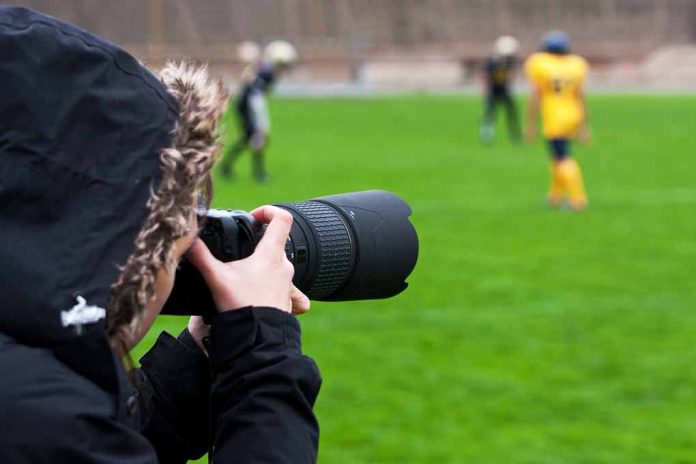 (StraightNews.org) – A high school football photographer died when players clashed with her on the sidelines. The 69-year-old was taking pictures of a contest between Wichita Northwest High School and Bishop Carroll High School when two players clashed and accidentally knocked her to the ground. Linda Gregory hit her against concrete when she fell and was taken to hospital in critical condition. She died four days later.
Gregory ran a photography studio with her husband Mel, who announced her death on Facebook. "She has passed and is at peace," he wrote. He said she would not want any blame or guilt and would not have held the players responsible for the tragic incident. Performers and fans observed a moment's silence at Northwest High School's game on September 8, and players will wear stickers with the initials "LG" on their helmets for the rest of the season. Husband Mel Gregory was present for the game.
Mr. Gregory announced his intention to set up a scholarship fund for prospective photographers in his wife's name.
So-called spectator injuries in sports are not uncommon, although most occur during high-speed events such as Formula One racing. Car races account for most spectator injuries, followed by cycling events, cricket, baseball, and hockey.
In May, a UK photographer died when a bike at the British Motocross Championships crashed into him. Simon Mitchell was killed when a motorcycle, without its rider, slammed through surrounding barricades and struck him. Mr. Mitchell's family said they were devastated by the loss but said he died in his favorite place – taking photographs at Foxhill, one of the UK's most popular motocross tracks.
Unsurprisingly, most injuries and fatalities in sports involve players. Some incidents have gone down in history as the most horrific incidents ever witnessed in public. For example, in 1989, hockey goalkeeper Clint Malarchuk's throat was cut open, and his jugular severed, live on TV. Opponent Steve Tuttle crashed into him during the game, and his blade severed Malarchuk's neck.
Copyright 2023, StraightNews.org