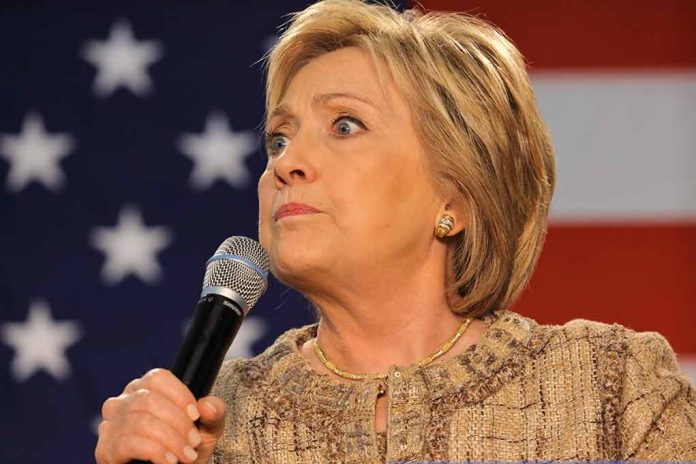 (StraightNews.org) – In an interview this week, former 2016 presidential candidate Hillary Clinton expressed dismay over Republicans refusing to "engage with the facts" while defending Trump over the Justice Department's indictment.
While appearing on the Pod Save America podcast on Tuesday, Hillary blasted Republicans for daring to call out the Justice Department's double standard in the case, saying that the response was "odd to the point of being absurd."
Hillary claimed that Republicans are refusing to read the indictment, saying they won't "engage with the facts" or admit that the indictment is about Trump and nobody else. She added that it would be "fascinating" in a "bizarre and said way" watching Republicans "spin themselves."
She said the lengths to which Republicans will go to defend Trump is "beyond anything I ever thought possible in our country." She said it has been "profoundly disturbing" that Republicans finally had an opportunity to break away from Trump but instead, they've decided to defend him.
Saying that the "psychology" behind the Republicans' need to defend Trump is "so hard for me to fully grasp," Hillary suggested that the GOP has become more of a cult "than a political party," and they will "stick with their leader."
In a futile attempt to debunk Hillary's claim that the Republicans are acting like a cult, former Alaska Governor Sarah Palin told Newsmax that a cult is defined as a group of people who excessively support each other and a "cause." She said a cult is about "conformity," "compliance," and "intolerance" for those who disagree.
But given the way many of Trump's most fervent supporters react when a Republican doesn't defend Trump over this indictment, Palin's argument doesn't debunk Clinton's claim. Instead, it appears to confirm that it is true among Trump's most faithful.
After former Attorney General Bill Barr told Fox's Shannon Bream that the indictment is "very, very damning" and Trump is "toast," podcaster Steve Bannon accused Barr of being "guilty of treason."
Copyright 2023, StraightNews.org