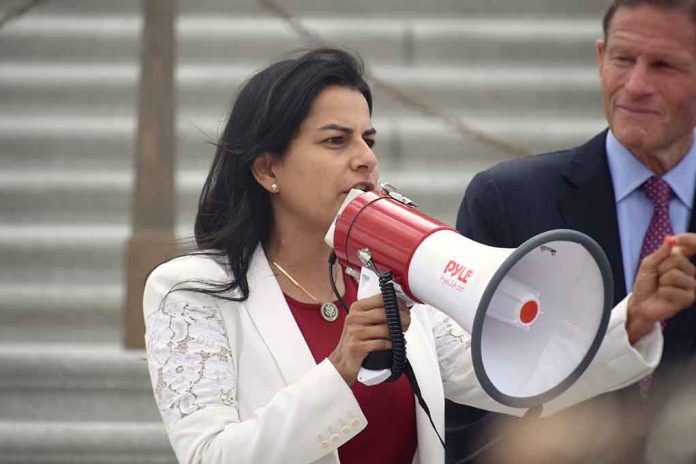 (StraightNews.org) — The Congressional Hispanic Caucus (CHC) has lashed out at Governor Ron DeSantis and condemned his plans to crack down on immigration in the Sunshine State. The chair of the CHC, Rep. Nanette Barragán (D-CA), wrote a statement along with Vice Chair Rep. Darren Soto (D-FL), saying the Florida Governor was fear-mongering and promoting racial profiling. The statement also claims that the controversial bill will damage Florida's economy at a time when people are in need.
Florida Senate Bill 1718, which is promoted by DeSantis, will make it a felony to transport or hide illegal immigrants from authorities. This also applies to the family members of immigrants. It furthermore places an obligation on hospitals to disclose the details of unlawful migrants to state officials. DeSantis said the action is necessary because Florida has spent hundreds of millions of dollars on healthcare for undocumented migrants.
A spokesman for DeSantis said the legislation will "counteract the effect of the increasing threats to Florida posed by illegal immigration as a result of the Biden administration's failure to secure our nation's borders."
Critics have condemned the move and said it may backfire on the Governor if he decides to run for the White House in 2024. Lisandro Perez, a professor at John Jay College, pointed out that many of the immigrants in Florida came from left-wing socialist states and as a result, are firmly conservative in their views. If he goes ahead with this legislation, he risks losing their support, he added.
Religious groups also spoke out against what they see as an encroachment on their freedoms. Gabriel Salguero, a pastor at a church in Orlando, is concerned that the work of his church will be compromised. Pastor Salguero provides support to undocumented migrants and worries he will no longer have the freedom to help them, or that they will lose trust in his organization.
The bill passed the Florida Senate Rules Committee in mid-March by 15-5.
Copyright 2023, StraightNews.org