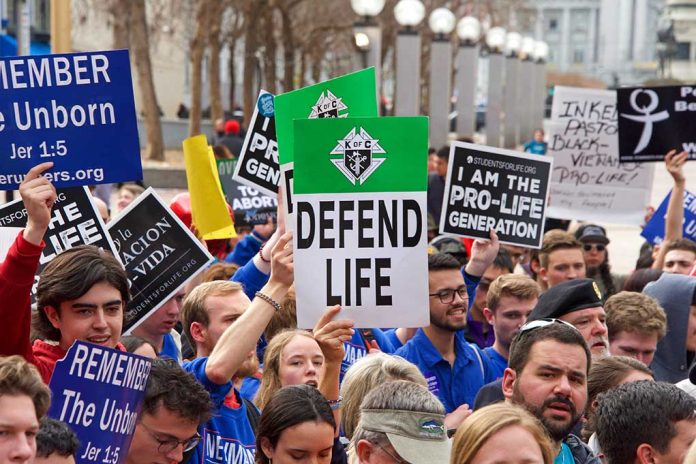 (StraightNews.org) — The House of Representatives has passed a resolution condemning attacks on pro-life groups. Three Democrats joined with Republicans to pass the motion by 222-209. The proposal was introduced by Rep. Mike Johnson (R–LA) in response to attacks that took place following the leak of information indicating that the Supreme Court was about to overturn Roe v Wade. The organization Catholic Vote says that there were at least 78 attacks on pro-life campaigners last year.
Rep. Johnson stated, "The Supreme Court opinion reestablishing the authority of individual states to prohibit the killing of unborn children sent the Democrat Party and other radical pro-abortion activists off the deep end in 2022."
Speaking in the House, Rep. Ann Wagner (R-MO) said there had been numerous attacks, including arson attacks and the use of Molotov Cocktails.
The House also passed the Born-Alive Abortion Survivors Act by 220-210 votes. This legislation provides that infants who survive abortion should receive medical care. Texas Democrat Rep. Henry Cuellar voted with Republicans on this occasion, drawing disapproval from some Democratic progressives. Alexandria Ocasio-Cortez (D-NY) was fiercely critical of Democrat support for Cuellar. When the mass school shooting in Uvalde, Texas, took place in May 2022, Ocasio-Cortez said, "On the day of a mass shooting and weeks after news of Roe, Democratic Party leadership rallied for a pro-NRA, anti-choice incumbent under investigation in a close primary. Robocalls, fundraisers, all of it."
In a related development, Alabama's Attorney General has said that women could be prosecuted for using abortion pills, even though the State's Human Life Protection Act exempts recipients of abortion from prosecution. Attorney General Steve Marshall (R) now says women could be prosecuted on felony charges of chemical endangerment of a child. Marshall said the exemption from criminal prosecution does not offer protection in every case. "It does not provide an across-the-board exemption from all criminal laws," he said.
Copyright 2023, StraightNews.org