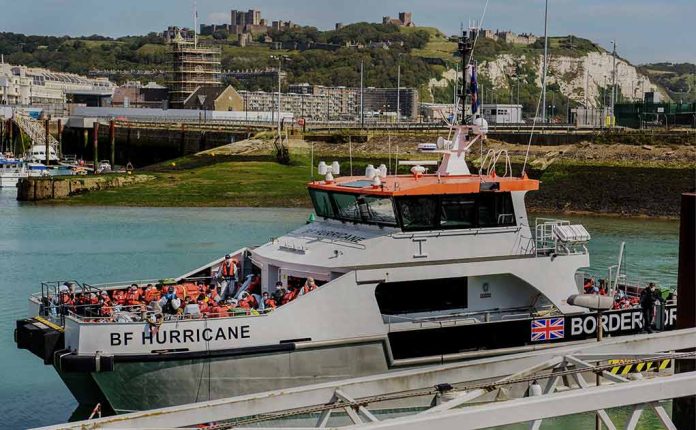 (StraightNews.org) – The UK has set yet another illegal migrant record as 872 arrived in a single day. This brings the total for 2023 to more than 21,000. The migrants depart from France in small inflatable boats and make their way across the English Channel to Dover, a port city on the south coast. From there, they are taken to hotels and housed at taxpayers' expense until permanent accommodation is found.
The British Border Force intercepts some, but instead of turning them back, the agency transports the migrants into the United Kingdom. The issue is one of the most contentious facing the Government of Prime Minister Rishi Sunak, who has promised to tackle the problem.
In July, the Prime Minister introduced the Illegal Migration Bill, which places a legal duty on the Minister responsible for migration – the Home Secretary – to detain and remove anyone entering the country illegally. The United Nations immediately condemned the proposals and said the British were in breach of their international obligations.
"This new legislation significantly erodes the legal framework that has protected so many, exposing refugees to grave risks in breach of international law," said UN refugees chief Filippo Grandi.
The situation is similar across Europe, where millions of people have arrived from Africa and the Middle East over the past decade. Statistics from 2022 showed an 84% increase in immigration from the previous year, and the European Commission estimates that migrants comprise around 9% of the overall population.
Mass immigration has brought unprecedented levels of violent crime to Europe, with new highs in crime figures reported in Sweden, Germany, and France. In 2017, following a vast influx to Germany a year earlier, police reported that new arrivals committed almost half of the crimes in the capital city of Berlin.
Back in the UK, a 2018 report revealed that "asylum seekers" had committed more than 1,000 terror attacks, or attempted terror attacks, across the continent over the previous four years.
Copyright 2023, StraightNews.org