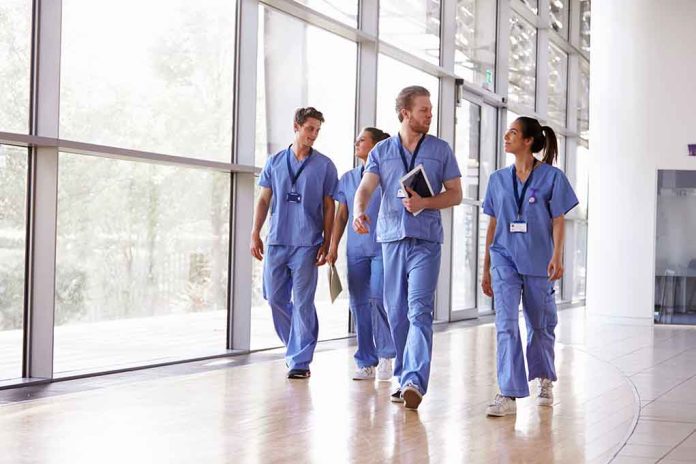 (StraightNews.org) — Healthcare for illegal immigrants will cost $1 billion in Illinois this year. Governor J.B. Pritzker signed the Health Benefits for Immigrant Adults program into law in 2022. It provides taxpayer-funded coverage to illegal migrants who have been in the state for fewer than five years. "Everyone, regardless of documentation status, deserves access to holistic healthcare coverage," Pritzker said.
Republican State Rep. Norine Hammond has now warned that the growth of illegal immigrants in the state means the healthcare bill will reach $1 billion this year.
Illinois joined a growing list of states providing benefits to people who entered America illegally. The Federation for American Immigration Reform (FAIR) noted in 2020 that New York and California provided free coverage to immigrants, which cost California $3 billion per year. The group argued that affording such benefits encouraged people to come to the United States and undermined the law.
It is unknown exactly how many illegal immigrants are in the United States, but there are estimated to be around 700,000 in Illinois. FAIR says that annual entries have risen dramatically under the Biden administration.
In a related development, President Biden has proposed a federal plan that would extend the benefits of the Affordable Care Act to migrants enrolled in the Deferred Action for Childhood Arrivals (DACA) program. There are more than a million illegal immigrants enrolled in the scheme. Department of Health and Human Services (HHS) Secretary Xavier Becerra will oversee the implementation of the new plans, and Homeland Security Secretary Alejandro Mayorkas said he is hopeful it will eventually lead to a full amnesty for all illegal aliens. "We support President Biden's efforts to expand health coverage to DACA recipients," Mayorkas said. "We stand ready to work with Congress to provide permanent protection for DREAMers," he added.
The Affordable Care Act was introduced by the Obama Administration. At the time, the former President stated that it would not be extended to cover illegal migrants.
Copyright 2023, StraightNews.org