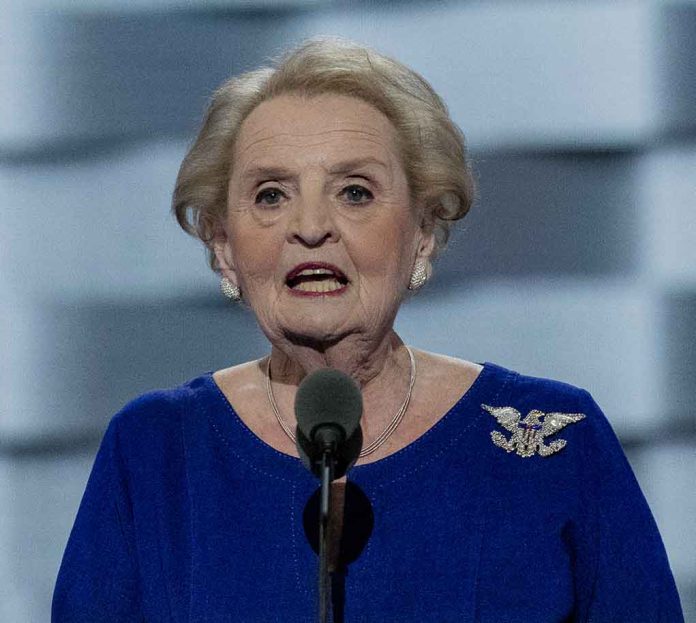 (StraightNews.org) – On March 23, former Secretary of State Madeleine Albright's family announced she passed away at the age of 84 in Washington, DC after a struggle with cancer. She served under former President Bill Clinton as the first female to hold the prominent position, breaking barriers in American politics.
Albright was born in 1937 in Czechoslovakia and immigrated to the US with her family in 1948 to escape the communist regime. She settled in Colorado and became a US citizen in 1957. Her first political position was working on the National Security Council while former President Jimmy Carter was in office.
Below is a statement from the family of @Madeleine: pic.twitter.com/C7Xt0EN5c9

— Madeleine Albright (@madeleine) March 23, 2022
The politician attended the prestigious Wellesley College in Massachusetts, earned her Ph.D. at Columbia University, and worked on staff at Georgetown University early in her career. In 1984 and 1988, she advised Geraldine Ferraro and Michael Dukakis on foreign policy during their respective vice president and presidential campaigns.
In 1993, Clinton appointed Albright to be the US Ambassador to the United Nations, where she served for four years before assuming her position as secretary of state. She continued her interest in foreign affairs and politics throughout the years by serving on many boards like the National Democratic Institute for International Affairs and the Council of Women World Leaders.
Former President Barack Obama awarded Albright the Presidential Medal of Freedom in 2012 for her exceptional service to the country. As far as her personal life, the impressive political female trailblazer reportedly spoke seven languages and raised three daughters over her lifetime.
Copyright 2022, StraightNews.org