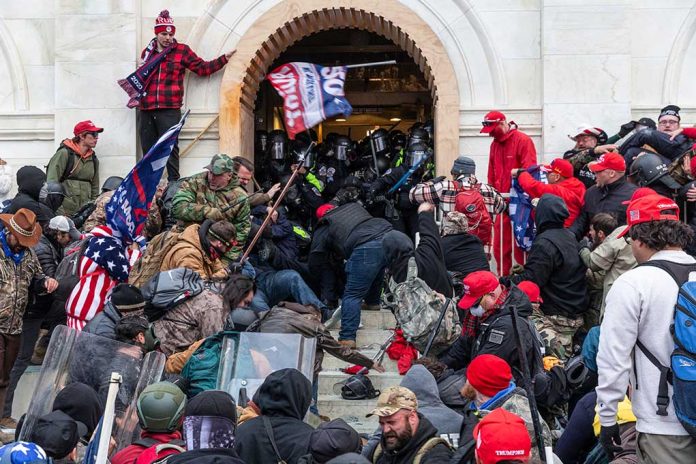 (StraightNews.org) — A man who called for the assassination of New York Rep. Alexandria Ocasio-Cortez has been jailed for more than 3 years. Garett Miller from Texas was sentenced to 38 months for a variety of offenses committed on Capitol Hill on January 6th, 2021. Charges included assaulting a police officer, threatening to injure or kidnap, interfering with law enforcement, and entering restricted grounds. He pleaded guilty on all counts. Miller called for the assassination of Ocasio-Cortez on the same day.
Capitol police said the Texan had been detained twice during the disorder and had been involved in physical altercations with several people. On the evening of the riots, he took to social media to express his anger toward various politicians and public figures. He posted "Assassinate AOC" on his Twitter account. Alexandria Ocasio-Cortez is fiercely anti-Trump and quickly stated that she wished to see the President impeached for his role in the events of the day. Miller also took aim at Sen. Chuck Schumer (D-N.Y.), Meta CEO Mark Zuckerberg, and former Twitter CEO Jack Dorsey, according to a Justice Department press release. The Department has charged more than 135 people for crimes on Capitol Hill that day.
President Donald Trump was impeached for "incitement of insurrection" for his role. Democrats, and some Republicans, continue to blame Trump for inciting his followers to attempt a violent overthrow of Congress. A central feature of his second impeachment was a speech he delivered just before the disorder began. In a 70-minute address, he urged his followers to march on Congress and make their voices heard. He also told the crowd to "fight like hell" or "you're not going to have a country anymore."
The Senate found Trump not guilty of inciting insurrection on February 13th, 2021. The majority of Senators voted to convict but failed to meet the supermajority threshold needed. Seven Republicans joined with all Democrats in voting against President Trump.
Copyright 2023, StraightNews.org