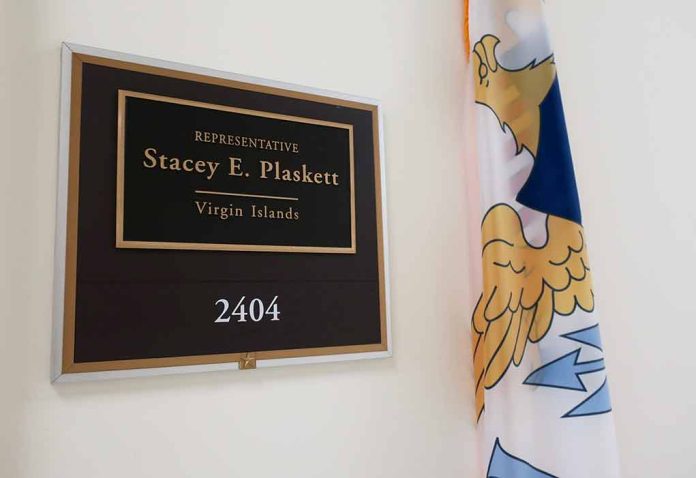 (StraightNews.org) – Democrat 'rising star' Stacey Plaskett may owe it all to convicted pedophile Jeffrey Epstein. In 2014 the Virgin Islands (USVI) politician was a virtual unknown who was not considered any threat to incumbent Democrat Shawn Malone. A paper trail is being put together as a lawsuit makes its way through court. The government of the U.S. Virgin Islands is suing JPMorgan who acted as Epstein's banker for years. Plaskett had denied ever meeting Epstein or that he contributed anything to her campaign but emails and tell a different story. Evidence appears to indicate Plaskett met with the disgraced billionaire several times from 2014 through 2018. One email sent by Plaskett undercuts her entire claim of ignorance about Epstein donating to her as she specifically directed a consultant to invite Epstein to a fundraiser as she'd be "grateful for his support."
Another email would appear to detail the origin of this relationship. It was sent by Cecile de Jongh, the then first lady of the Virgin Islands. She specifically asks Epstein for help with electing Plaskett and points out that the incumbent Shawn Malone was "the one who came after you in the senate hearing last week." Then she writes should Plaskett win the election Epstein "would have a friend in Stacey." Epstein donated the maximum he was allowed by law and then directed his employees to donate to Plaskett as well. Plaskett has said she finds Epstein "reprehensible" and is "disgusted" by his actions but she was inviting him to fundraisers as late as July of 2018 long after his well-known pedophilia convictions and only months before his eventual death.
As a USVI representative Plaskett has no vote in Congress but has climbed into powerful positions nonetheless. She held a managerial slot on the second impeachment of Donald Trump, a seat on the coveted House Intelligence Committee and is the ranking member on the Weaponization of Government Subcommittee. It was on the Weaponization committee where Plaskett recently made headlines by demanding reporter Matt Taibbi reveal his sources, threatening him with jail time and accusing him of perjury.
Copyright 2023, StraightNews.org