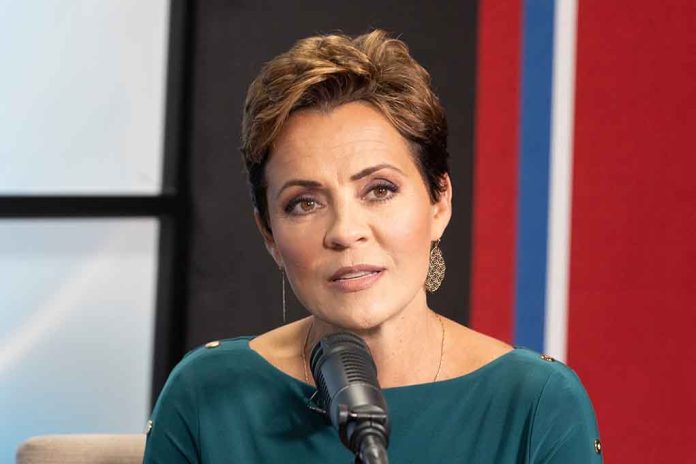 (StraightNews.org) — A Judge in Arizona has dismissed most of the lawsuit initiated by Republican gubernatorial candidate Kari Lake. Lake filed the suit, in which she alleges voter fraud, following her loss to Democratic Katie Hobbs in November. The Republican asked for the election result to be set aside.
Lake petitioned the court on 10 counts in which she alleges election officials were guilty of misconduct and had tabulated thousands of illegal ballots. Maricopa County Superior Court Judge Peter Thompson dismissed 8 of the 10 counts but allowed a trial to move forward on 2. These involve printer malfunctions and chain of custody issues.
The Judge's ruling stated that Lake has "alleged intentional misconduct sufficient to affect the outcome of the election and thus has stated an issue of fact that requires going beyond the pleadings". Lake must therefore prove at trial that printer malfunctions were intentionally created to affect the outcome of the election, and that they actually did affect the outcome.
The second count that will be allowed to proceed to trial pertains to the chain of custody. Lake has asserted that ballots were added to the tally by employees in Maricopa County. Judge Thompson ruled this was a "dispute of fact" that could be examined at trial.
Democratic victor Katie Hobbs had asked the court to dismiss all 10 counts. Her attorney said, "For the past several years, our democracy and its basic guiding principles have been under sustained assault from candidates who just cannot or will not accept the fact that they lost. The judiciary has served as a bulwark against these efforts to undo our democracy from within".
Judge Thompson has ordered a two-day trial to take place before January 2nd 2023.
Maricopa County, at the epicenter of the allegations, is the largest in the state with a population of over 4 million people.
Copyright 2022, StraightNews.org