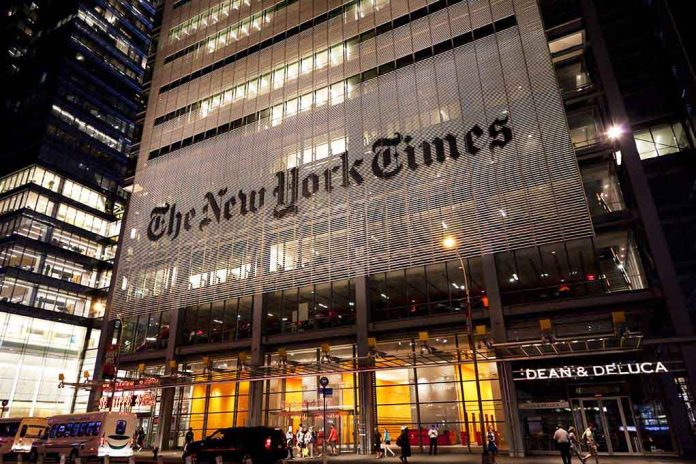 (StraightNews.org) — A judge in New York City threw out Donald Trump's claim against the New York Times, saying the First Amendment protects the newspaper. The former President sued the newspaper in 2021, along with his niece Mary Trump, for plotting to obtain his confidential tax records. The lawsuit names The New York Times and three reporters – Susanne Craig, David Barstow, and Russ Buettner.
Trump argued that the reporters had attempted to acquire documents from his niece and, in doing so, were in breach of an agreement between the former President and his niece in 2001 that obliged Mary Trump to maintain confidentiality about her billionaire uncle's affairs.
Justice Robert R. Reed of the state Supreme Court in New York County ruled, however, that the actions of the journalists were justified and constitutionally protected. He said the courts have long recognized that reporters can engage in "legal and ordinary newsgathering activities," which are at the heart of the First Amendment.
Donald Trump filed the lawsuit when the New York Times published a 2021 article claiming the former President engaged in "dubious tax schemes." He sought $100 million in compensation.
In dismissing the case, Justice Robert R. Reed, a Democrat, ordered Mr. Trump to pay all costs and legal fees.
Mary Trump has been a fierce critic of her uncle for years and described him as the world's most dangerous man in America in a tell-all book in 2020. In it, she described Trump as a narcissist and a bully. She acknowledged that she supplied the New York Times with documents relating to his tax affairs. She says she initially did not want to cooperate with the Times but later decided to "bring him down."
Mary is the daughter of President Trump's brother Fred, who died from an alcohol-related illness in 1981. President Trump denies all of Mary Trump's allegations but has expressed sadness about his brother's death and said it spurred him to tackle addiction in America.
Copyright 2023, StraightNews.org