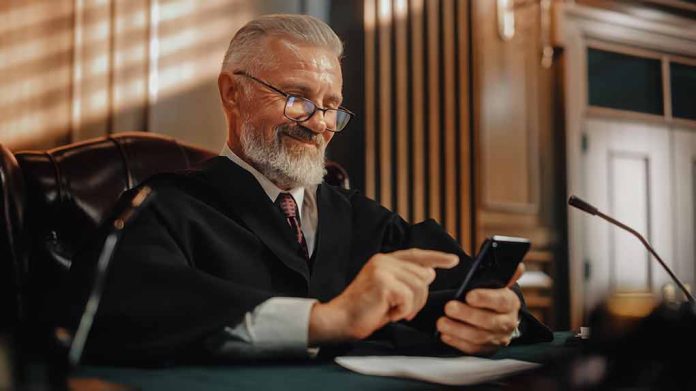 (StraightNews.org) – A judge in Oklahoma was caught allegedly scrolling through her phone while overseeing a criminal trial. Lincoln County District Judge Traci Soderstrom was allegedly caught on security cameras sending text messages and checking Facebook while presiding over criminal proceedings.
Concerned court personnel sent the camera footage to local District Attorney Adam Panter, who said, "It is both shocking and disappointing. Jurors are banned from using cellphones in the courtroom during trials because we expect them to give their full time and attention to the evidence being presented. I would expect and hope the court would hold itself to the same standard."
Sheriff Charlie Dougherty later forwarded the footage to the Oklahoma Council on Judicial Complaints, which cannot confirm if an investigation is underway. Soderstrom was elected to the bench in January 2023 for a four-year term.
Complaints against judges are common, but many of these are kept from public view, and critics say the judges rarely face censure. Each state has its own process for filing complaints and for when and if those complaints are revealed to the public. Data from 2016 to 2020 showed that only around 1% of grievances end in judges being publicly disciplined or stepping down from the bench.
Last year, the non-profit group Citizens for Responsibility and Ethics in Washington filed a lawsuit against the Department of Justice (DOJ) for withholding records regarding ethics investigations into federal judges. The organization sought information on complaints against any US Supreme Court Justice, appeals court judges, and federal district judges.
In 2021, the DOJ's professional responsibility office said there were nine complaints against federal judges between 2019 and 2021 but did not name those judges or provide details of the alleged misconduct. The request was initiated after a publication in the Wall Street Journal in 2021 stated that 131 federal judges broke the law from 2010 to 2018 by failing to recuse themselves from cases involving a conflict of interest.
Copyright 2023, StraightNews.org