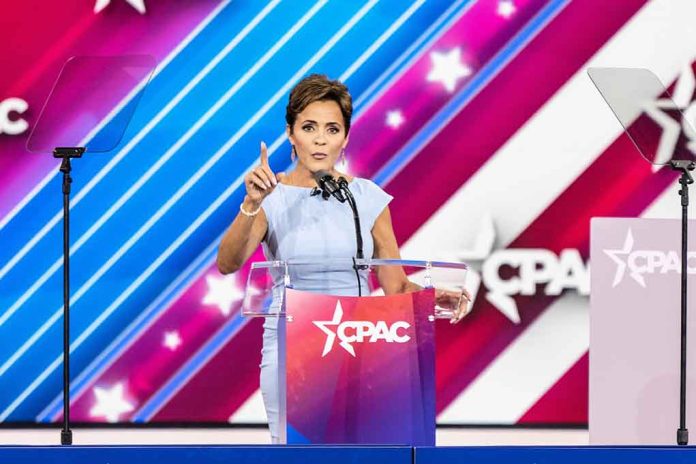 (StraightNews.org) — Controversial Arizona Republican Kari Lake won a Vice Presidential poll at the Conservative Action Political Conference. She won 20% of the vote in a field of 28 candidates, coming in ahead of both Ron DeSantis and Nikki Haley. DeSantis got 14%, while Haley had the support of 10% of conference delegates. Donald Trump was the victor for preferred Presidential candidate at 62%, while DeSantis trailed behind in second place at 20%.
In response to the poll, Lake's official Twitter account said, "We're flattered, but unfortunately our legal team says the Constitution won't allow for her to serve as Governor and VP at the same time." Lake lost the race to be Governor of Arizona last November but insists this was due to electoral fraud. She filed a lawsuit in this regard and still maintains that the victory was rightfully hers. She lost her initial legal case but has appealed to the Arizona Appellate Court and updated her supporters in February saying, "Our expectation is the panel will move this case quickly. As soon as I have more information—you'll be the first to know. I will never stop fighting for you Arizona!"
During her speech at CPAC, Lake sensationally claimed that she had been subjected to attempted bribes prior to her gubernatorial campaign and described politics as "disgusting." She said people turned up at her door and offered her a lucrative job and board position if she would agree to get out of the race for Governor.
In an interview prior to her speech, she reiterated her allegation that both her own and President Trump's election losses had been orchestrated. In an exchange on Twitter, however, she was accused of using her legal case as a fundraising tool by a former Trump lawyer Jenna Ellis. The son of former President Ronald Reagen also lashed out at her and said his father would be embarrassed at the current state of the GOP, largely because of Lake and her claims of fraud.
Copyright 2023, StraightNews.org