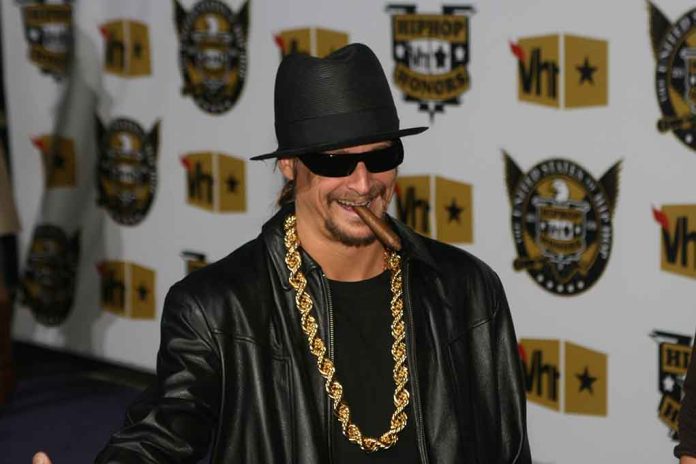 (StraightNews.org) — Rock star Kid Rock donated $5,000 to the Daniel Penny defense fund. The former Marine was charged with second-degree manslaughter after a chokehold he administered on a man on the New York subway ended in his death. Jordan Neely, who was homeless and known on the subway for his Michael Jackson impersonations, was said to be harassing and threatening fellow passengers when Penny stepped in.
Having initially declined to press charges, Manhattan District Attorney Alvin Bragg changed his mind after protestors descended upon the subway chanting, "No justice, no peace." He did not convene a grand jury before issuing the indictment.
Protestors clashed with police on May 1st and disrupted train services. The protests were highly racialized as Mr. Neely was black and Mr. Penny is white.
Several high-profile conservatives have spoken out in Penny's defense, including Florida Governor Ron DeSantis and Republican Presidential candidate Vivek Ramaswamy, who donated $10,000.
Penny's lawyers established a fundraising page that raised millions of dollars in its first few days. They say Mr. Penny did not intend to kill Mr. Neely and was merely acting as his military training had taught him and had set out to diffuse a potentially dangerous situation.
Kid Rock, whose real name is Robert Ritchie, described Penny as a "hero" and added, "Alvin Bragg is a POS."
In April, Mr. Ritchie hit news headlines when he filmed himself shooting beer cans in response to Bud Light's partnership with transgender influencer Dylan Mulvaney. This has prompted activists to lash out at country music legend Dolly Parton, who collaborated with Ritchie on her new album. Trans activists attacked Parton on social media after the track list for her new album Rockstar was published. Dolly Parton has teamed up with a number of rock legends, including Kid Rock.
Fans expressed their disappointment and dismay that Parton should team up with a "terrifyingly violent transphobe." Dolly Parton will release her new album in November.
Copyright 2023, StraightNews.org