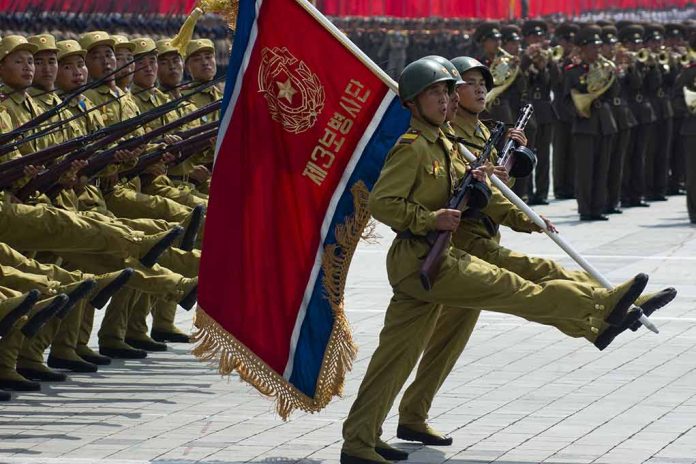 (StraightNews.org) – Representatives from Russia and China visited North Korea to join in the communist state's celebrations marking the end of the Korean War. Russian Defense Minister Sergei Shoigu and Chinese Politburo member Li Hongzhong are the first visitors to the country since leader Kim Jong Un closed its borders at the height of the pandemic in 2020.
The visit commemorated what Kim Jong Un calls "Victory Day." The leader tells his people the conflict ended with a resounding victory for the North, even though no peace agreement was ever reached, no victor was declared, and South Korea prospered in a climate of freedom and democracy. At the same time, North Koreans live in a closed, secretive, and poverty-stricken state.
During the war, which lasted from 1950 to 1953, the US backed the South, while China and Russia supported the North.
To mark this year's Victory Day, Kim Jong Un observed a major military parade in the capital Pyongyang. Accompanied by his Russian and Chinese guests, the leader showed off his nuclear-capable missiles, prompting international concern about potential weapons deals with Russia as its war in Ukraine shows no sign of abating. On July 27, Russian President Vladimir Putin sent a message of thanks to North Korea for its "firm support" in its "special military operation."
Western observers are not clear on the specifics of the "operation" in question, but the US warned last year that North Korea is selling vast quantities of weapons and munitions to the Kremlin.
The relationship between Russia and North Korea is long-standing but has deepened since Moscow invaded Ukraine. Russia finds itself more isolated on the world stage and is enhancing its relations with undemocratic and anti-Western regimes, including North Korea and China.
On July 27, a US intelligence report warned that global sanctions against the Kremlin were not as effective as hoped because of Chinese economic support of Putin's regime. "Beijing is pursuing a variety of economic support mechanisms for Russia," the report states.
Copyright 2023, StraightNews.org