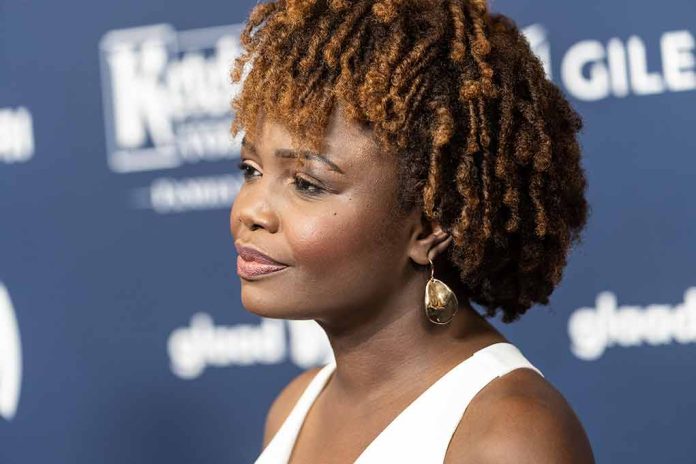 (StraightNews.org) – White House Press Secretary Karine Jean Pierre has once again refused to address the President's granddaughter, whom he has never met and does not acknowledge. Navy Joan Roberts, a four-year-old who lives with her mother in Arkansas, is the biological daughter of Hunter Biden, the President's son, but the family never mentions her, and she is excluded from family festivities on Christmas or other significant occasions.
In May, reporters asked Jean Pierre if the President acknowledges his granddaughter but she dismissed the question and ignored follow-up comments. She repeated this approach more recently when a reporter asked for the President's view on Navy Joan, who has been in the media due to her parents reaching a legal settlement.
"There was a story in The New York Times over the weekend about Hunter Biden's daughter in Arkansas. Does the President acknowledge this little girl as his granddaughter?" a reporter asked. Jean Pierre replied, "I don't have anything to share from here."
Hunter Biden and his daughter are under media scrutiny as the President's son settles a legal battle with the child's mother, Lunden Roberts. She gave birth to Navy Joan in 2018, but Hunter Biden initially denied he was her father. The courts settled that matter and Biden has been paying child support payments since 2019. Recently he petitioned the courts to have this amount reduced from $20,000 to $5,000 – the parties reached an out-of-court settlement.
A second matter in litigation was the child's surname. Lunden Roberts wanted her to use the name Biden as she believed this would enhance the little girl's life chances, whereas Hunter Biden said the name was a burden and he would prefer the child to have a quieter life.
According to the New York Times report, Navy Joan's alienation is a designed White House strategy and aides are briefed to maintain the narrative that the President has only six grandchildren. Navy Joan is the seventh and the only one born out of wedlock.
Copyright 2023, StraightNews.org