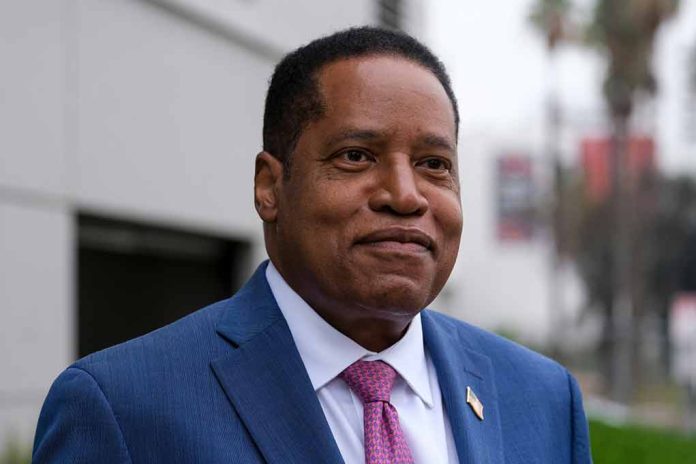 (StraightNews.org) — Conservative radio host Larry Elder has entered the GOP White House race. The news came during an interview with now-former Fox News host Tucker Carlson where he said he has a moral, religious, and patriotic duty to run. His biggest concern is crime, as well as increasing fatherlessness in American homes.
"We've incentivized women to marry the government. We've incentivized men to abandon their financial and moral responsibility. And if I do nothing else in this race, but focus people on those two issues… I would perform this service to my country," he said.
This is not Elder's first foray into politics. He also ran in the California recall election in 2021. His presence was controversial throughout, starting with an argument he had with Californian Secretary of State Shirley Webber. She initially did not place Elder's name on the ballot paper, alleging he did not make the required tax returns. He sued and won – his name was added to the ballot – but he refused to participate in debates and hinted at electoral fraud in the process.
He is fiercely pro-Trump and maintains that the 2020 Presidential election result is illegitimate.
The former radio host, who wrapped up his show in April last year, launched a political action committee (PAC) in January 2022 to help Republicans fight elections at all levels of politics. The Elder for America PAC said it will "will engage in public education campaigns, direct voter contact, and fundraising to help Republicans win key seats in the House and Senate, and effect public policy on the local level."
Elder was born in Los Angeles in 1952. His father was a sergeant in the US Marines and a strong Republican. His mother, who worked as a clerk, was a Democrat. He is a law school graduate with a long media career. He won an Emmy award in 2000, and his LA-based talk show ran from 1994 to 2008.
Copyright 2023, StraightNews.org