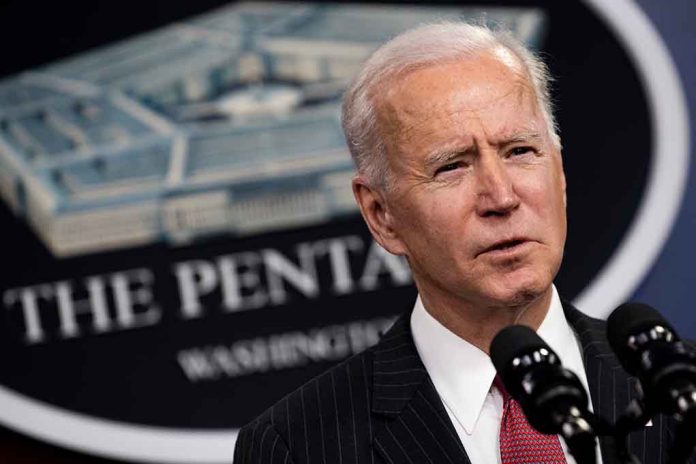 (StraightNews.org) — Lawmakers in Washington are preparing to grill President Biden on the Chinese spy balloon scandal and will demand answers as to how such a serious security breach could have taken place. The balloon was shot down over the Eastern Seaboard on Saturday, February 4th, having flown to the area from Montana over the preceding days. One of the questions that will need to be answered is why the US was so confident the balloon did not pose any threat during that time. Chairman of the House Armed Services Committee Rep. Mike Rogers (R-AL) said he was "deeply concerned by the Biden administration's decision to allow the spy balloon to traverse the United States." Rogers added that the scandal had made the US look fragile. Rep. Michael McCaul (R-TX) agreed and said he will demand answers from Biden regarding this "embarrassing display" of weakness.
Meanwhile, Rep. Majorie Taylor Greene (R-GA) has called for an investigation into why President Trump was apparently unaware that three similar spy devices had flown over the United States during his time in the White House. The Pentagon said that spy balloons had been spotted over the US during the Trump administration, but Trump any knowledge of this. Former National Security Adviser John Bolton said he too was not aware of these incidents. Taylor Greene has now called for an explanation from the Pentagon. "If it's true the Pentagon purposely did NOT tell President Trump of Chinese Spy Balloons during his administration then we had a serious breach in command," she wrote on Twitter.
China has repeatedly insisted that the device was merely a weather balloon that had flown off course and has reacted with anger at the US for shooting it down. The event led to the cancelation of a trip to Beijing planned for Secretary of State Antony Blinken. Chinese officials were informed that the visit would be rescheduled. The incident has been described as a major blow to China-US diplomacy.
Copyright 2023, StraightNews.org