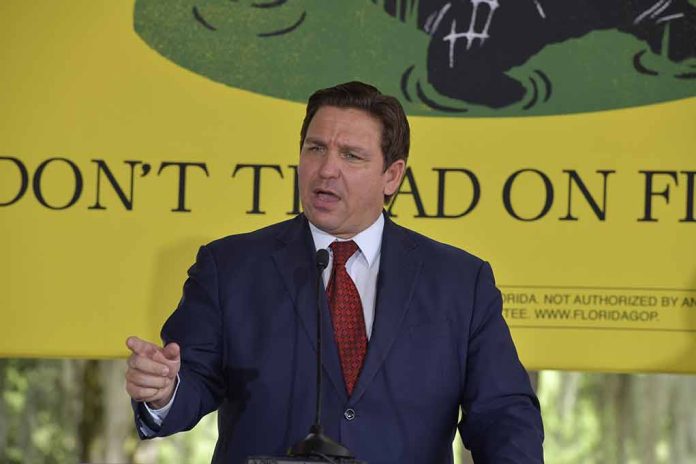 (StraightNews.org) – Governor Ron DeSantis has lost the support of gay Republicans and conservatives with a video attacking Donald Trump for supporting LGBT citizens after the homophobic murders at a gay nightclub in Orlando in 2016. Critics say the video confirms that the Governor's intent is not merely to defend children from inappropriate adult material or protect private spaces for women but to attack law-abiding conservative LGBT Americans.
Log Cabin Republicans, a gay conservative organization, condemned DeSantis' video and said, "Conservatives understand that we need to protect our kids, preserve women's sports, safeguard women's spaces and strengthen parental rights, but Ron DeSantis' extreme rhetoric goes has just ventured into homophobic territory."
The film, shared by the DeSantis War Room on Twitter, features clips of the Governor interspersed with images of a serial killer character played by Christian Bale in the thriller American Psycho, as well as random images of large, muscled men.
Transport Secretary Pete Buttigieg mocked DeSantis for these elements of the film, asking if he was trying to prove his manhood by "putting up a video that splices images of you in between oiled-up, shirtless bodybuilders."
In response to the criticism, DeSantis defended his position and accused Donald Trump of bringing extreme gender ideology into the mainstream. He said Trump has reversed course in the 2024 campaign, and it is "fair game" to remind voters about the former President's previous remarks.
DeSantis' spokeswoman Christina Pushaw also hit back at criticisms and said opposing "Pride Month" isn't homophobic. She said America does not devote a month to celebrating heterosexuality and condemned Pride Month as "unnecessary, divisive, pandering." She added that in a country as diverse as the United States, "identity politics is poison."
Recent polls reveal a drop in support for DeSantis while Trump remains the front-runner. A survey by Echelon Insights in July showed the Floridian fall by 3% to 16%, while Trump maintains his significant lead at 49%. In the same poll, Vivek Ramaswamy reached 10% for the first time.
Copyright 2023, StraightNews.org