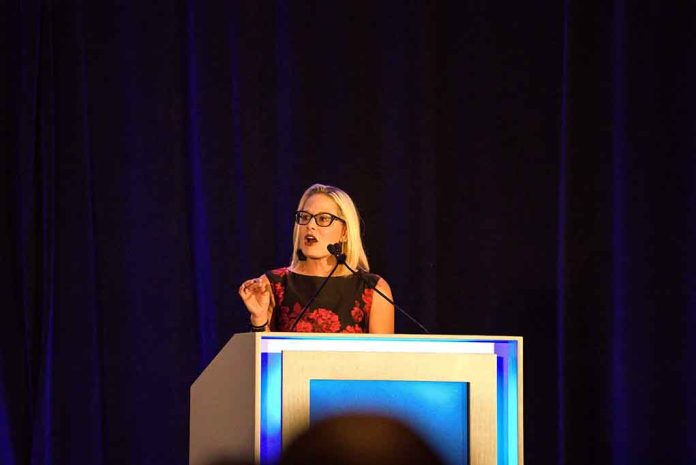 (StraightNews.org) — A majority of voters approve of the decision of Kyrsten Sinema to leave the Democratic party. A Rasmussen Reports poll revealed that 60% believe she did the right thing in leaving the party, and agree with her that the 'system is broken'. Only 27% disapproved, while 12% strongly disapproved.
Sen. Sinema of Arizona resigned from the party in early December and registered as an Arizona Independent. She said she could not fit neatly into any party and that many Americans felt the same way and are tired of the party system. "When politicians are more focused on denying the opposition party a victory than they are on improving Americans' lives, the people who lose are everyday Americans. That's why I have joined the growing numbers of Arizonans who reject party politics by declaring my independence from the broken partisan system in Washington," she wrote in an op-ed in the Arizona Republic on December 9th. She also said she would keep her current committee assignments.
Sinema is not the only Senator to voice discontent with the party system in recent weeks. Sen. Joe Manchin (D-WV) said that he would serve in the Senate as an "independent voice" and was asked to clarify these comments in an interview with Margaret Brennan on CBS. While Manchin would not say if he intended to join Krysten Sinema, he did criticize the party political structure and political posturing at the expense of the American people. "I don't think Democrats have all the answers," he said, "I don't think the Republicans are always wrong".
White House press secretary Karine Jean-Pierre said Sinema's departure will not change the power balance in the Senate and that the Biden administration intends to continue to "work successfully" with the Arizona Senator.
In 2018, Sinema became the first Arizona Democrat elected to the Senate in 30 years.
Copyright 2022, StraightNews.org