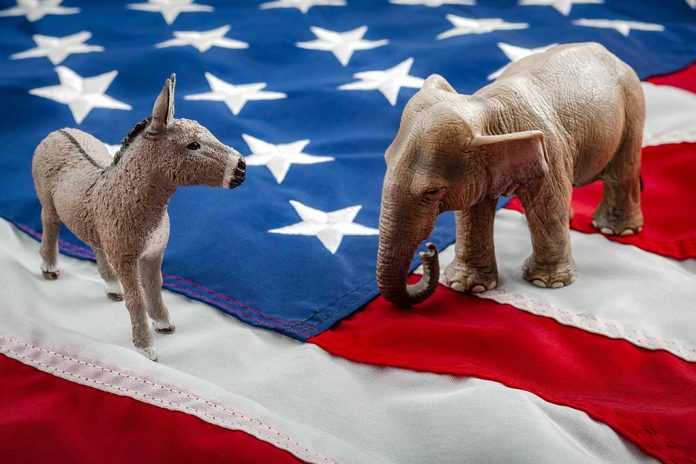 (StraightNews.org) — A majority of Republicans want a new chair for the Republican National Committee, according to a new poll. Ronna McDaniel, the current chair who has the support of former President Donald Trump, has blamed a campaign of disinformation for her decreasing support.
A survey by the Convention of States Action in December found that 73% of Republicans want to see a new chair in 2023, while only 6% supported McDaniel. Mark Meckler, president of the Convention of States said, "Voters believe the only way to hold the GOP accountable for its failures is to make way for new leadership. Grassroots activists have known for a long time that the GOP leadership in Congress and at the RNC aren't fighting for conservative principles, or even winning a majority, but rather keeping themselves in power."
Meanwhile, McDaniel has said that her lack of support is attributable to "disinformation". Responding to criticisms that the RNC needs to be decentralized, McDaniel said that it was decentralized and that the role of the RNC is to get out the vote, adding that 3 million more Republicans than Democrats had voted in 2022.
Despite the negative results in this new poll, McDaniel secured the support of the majority of RNC members late last year when 107 of 168 said they would vote for her. This is more than enough to secure her victory. Some Republicans attribute this support to the Trump loyalism at the heart of the RNC. However, she has also overseen a spurt in fundraising for the party and raised more than the Democrats in 2021 and 2022.
McDaniel's main rival in the race, to be held in January, is California attorney and fellow RNC member Harmeet Dhillon. Like McDaniel, Dhillon is a Trump supporter. She has been co-chair of Women for Trump and was the legal advisor in his 2020 election campaign.
Copyright 2023, StraightNews.org