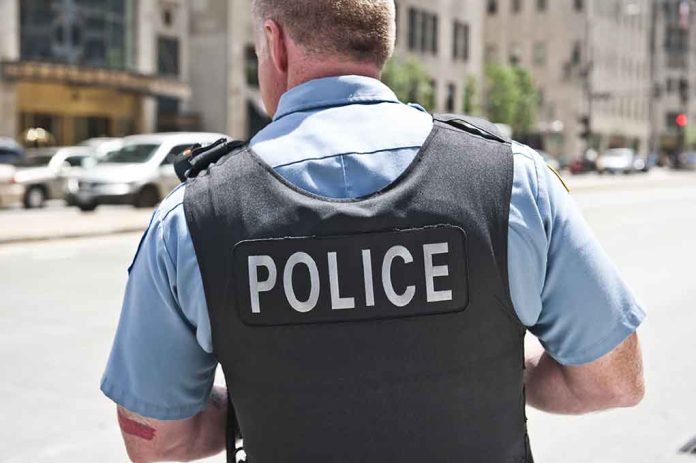 Man's SHOCKING Death Happens On Policeman's Watch
(StraightNews.org) – The general public relies on the police officers in their communities to protect them in times of trouble. Sometimes, however, incidents can go horribly wrong — on either side — and result in a person's death or injury. A recent event in Tempe, Arizona, has raised the issue of to what extent are officers supposed to involve themselves in a dangerous situation.
Officers Called to "Altercation"
In the early morning hours of Saturday, May 28, Tempe police were called to a local lake area to investigate an altercation. When they arrived, they found 34-year-old Sean Bickings and a woman who said she was his wife. The woman said the two got into an argument, but he hadn't done anything wrong.
During the course of questioning, Bickings decided he was going to jump into the lake for a swim — which was prohibited — even as the officers tried to deter him. Within a matter of minutes, according to body cam footage released by the Tempe Police Department, he was calling for help. One of the officers on scene told him to grab a nearby pylon, but Bickings insisted he couldn't, to which one of the officers responded, "OK, I'm not jumping in after you." One officer also said to his partner he was calling for a boat and to keep an eye on the man. The body cam footage released does not reveal whether a call was actually made. Bickings struggled to stay afloat and eventually went underwater and did not resurface. His body was pulled from the water six hours later.
Officers on Leave Pending Investigation
The Tempe Police Department placed the three officers on paid leave while Bicking's death is being investigated. The investigation is expected to take several weeks, at which point the Arizona Department of Public Safety will then review the findings. Tempe officials also asked the Scottsdale Police Department to carry out an administrative review to ensure public transparency. None of the agencies involved have commented, citing the ongoing investigation.
Police Responsibility
This tragic incident has raised the question: how far does the police officer's responsibility extend? While they undergo training to handle dangerous situations, not every officer is capable of handling each one that arises. Some believe the police should have jumped in the water to save Bickings, but would that have been the best course of action?
The local police union, Tempe Officers Association, came to the officers' defense. In a statement to Insider, the union said police receive "no training in water rescues," and jumping in could've put the officer's life at risk, too, as they "could be pulled down by a struggling adult." In incidents involving water, Tempe police are trained to call for reinforcements — either the fire department or the Tempe police boat. Though it's unclear if the officers on scene did call for a boat at the time Bickings was struggling, the investigation and release of additional footage will hopefully reveal more of what happened that day.
Copyright 2022, StraightNews.org