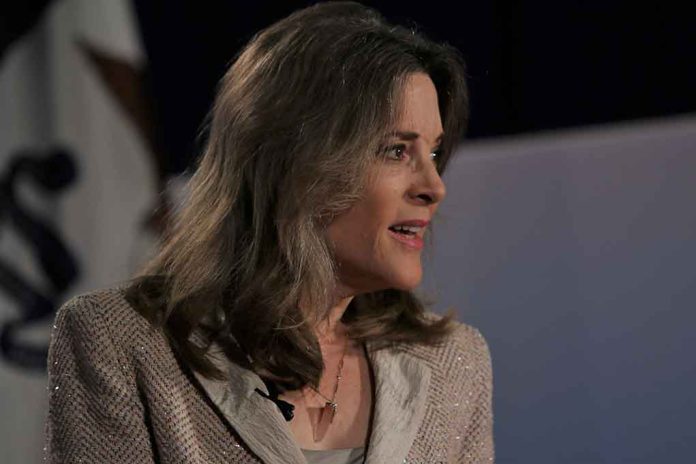 (StraightNews.org) — Best-selling author Marianne Williamson is to enter the race for the White House in 2024. She will be the first challenger to Joe Biden on the Democratic side. The Texan ran for the Presidency in 2020 but dropped out of the race early, having failed to gain sufficient support. She is known for her spiritual outlook and her TV appearances with Oprah Winfrey. In 1989, she founded the Project Angel Food organization which delivers food to HIV sufferers in the Los Angeles area. She is a staunch supporter of Medicare and other social programs and sits firmly on the left of the Democratic Party.
She has announced that she will travel to key states in the opening weeks of her campaign. She is due to visit South Carolina, New Hampshire, Michigan, and Nevada and will call on Democrats to take a fresh approach. "You can appreciate what the president has done — defeating the Republicans in 2020 — and still feel it is time to move on," she said.
Williamson has stated she will campaign for universal healthcare, a livable wage, free college education, free childcare, and a complete and fundamental overhaul of the US economy.
There have been no other Democratic contenders to challenge President Biden so far. The President's popularity has wavered since he entered the White House but in recent weeks his support has increased among the party faithful. The majority of Democrat voters endorse his bid for the White House, even though his age has been a concern for many.
On the Republican side, Donald Trump raced into a significant lead in the latest hypothetical primary poll. The former President is ahead of his closest contender Ron DeSantis in a recent Yahoo/YouGov survey. Conducted in early February, the results put Trump ahead at 47% with DeSantis at 39%. The other high-profile candidate, Nikki Haley, has also seen her support grow, but at the last poll, only 6% said they would vote for her to be the Republican candidate.
Copyright 2023, StraightNews.org