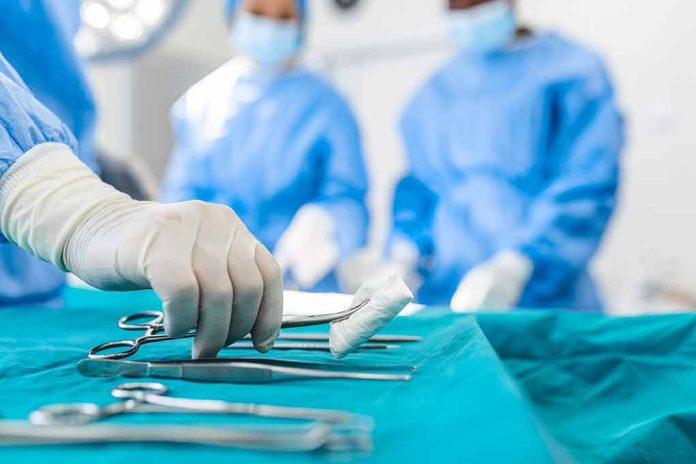 (StraightNews.org) – A tool the size of a dinner plate has been discovered inside a woman's abdomen in New Zealand. The surgical implement, known as an Alexis retractor, or AWR, was left inside the woman when she underwent a Cesarean section birth. The device measures around 6 inches in diameter and was not found until 18 months after the woman gave birth. She suffered months of abdominal pain, but doctors could find no cause, even on x-ray.
On one occasion, the pain became so unbearable that the mother visited her local emergency room, where she underwent an abdominal CT scan at the Auckland City Hospital. Only then did medical staff discover the cause and remove the retractor.
In a report released on September 4, New Zealand's Health and Disability Commissioner, Morag McDowell, found the Auckland District Health Board to be in breach of the country's code of patient rights. "The care fell significantly below the appropriate standard in this case," McDowell said.
Staff at the hospital did not explain how the incident occurred or why the device was not discovered under intensive investigation.
The Alexis wound retractor is used to keep an incision open during surgery. It is comprised of two plastic rings fixed together, end to end, with a plastic sheet. Because it is a "non-radio-opaque" object, it does not show up on x-ray.
According to a British report in 2023, the number of incidents where a foreign object is left inside a patient during surgery has grown. Several bizarre and deeply troubling instances have occurred in the US in the past few years. For example, a cancer survivor in California believed his health was rapidly fading due to bowel pain. Doctors discovered a towel lodged in his abdomen. An epidural needle was found in a Florida woman's spine in 2017, and in Seattle, doctors found a 13-inch-long metal bar inside a man who only realized it was there after setting off security alarms at an airport.
Copyright 2023, StraightNews.org