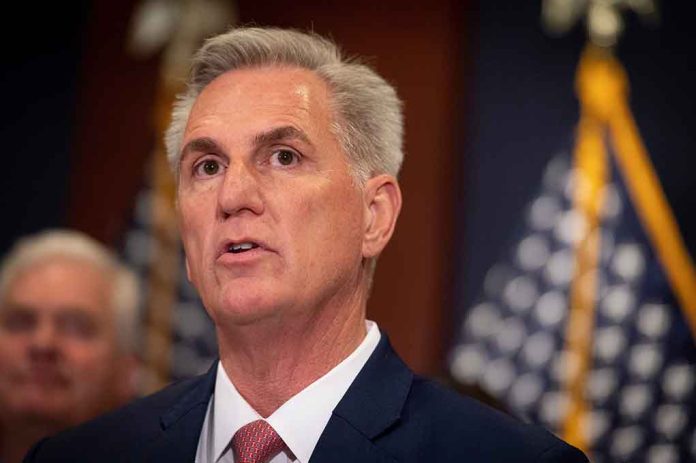 (StraightNews.org) — House Speaker Kevin McCarthy and House Minority Leader Hakeem Jeffries will visit Israel in April. They will not make the trip simultaneously but only days apart. Celebrations for the country's 75th anniversary will coincide with the visits.
The news comes amid criticism of Prime Minister Benjamin Netanyahu from the White House. Biden has cautioned Mr. Netanyahu not to proceed with reforms that would give the government greater authority over the Supreme Court.
In response to Biden's disapproval, Kevin McCarthy said, "Prime Minister Netanyahu is an Israeli patriot, statesman, and most importantly, a great friend of the USA."
Reforms introduced by the Prime Minister will allow the government to appoint Supreme Court judges and override rulings by the Court. Netanyahu said the purpose is to balance the three branches of government as the Supreme Court has excessive power. President Biden said he hoped Netanyahu would "walk away" from the proposed reforms. The Prime Minister responded curtly, stating that Israel is a sovereign country and its government will make decisions based on "the will of its people and not based on pressures from abroad."
The Israeli government has paused the reforms for now, but relations are strained nonetheless. The pause came after widespread protests by largely left-wing groups who accused the government of attempting to undermine the rights of minorities.
In March, the White House backpedaled on an invite to Netanyahu and said he would not be welcomed to Washington, at least in the near term.
The friendship between the two countries is less amicable under the Biden administration than it was under Donald Trump, who was hugely popular in the Jewish state. In 2017, the Trump administration formally recognized Jerusalem as the Israeli capital and opened a US embassy there a year later. A year after that, Secretary of State Mike Pompeo signed a declaration that the "establishment of Israeli civilian settlements in the West Bank is not per se inconsistent with international law."
Copyright 2023, StraightNews.org