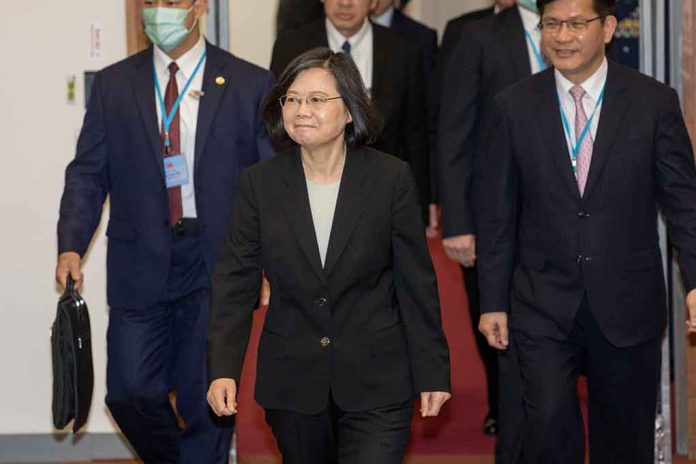 (StraightNews.org) — Republican House Speaker Kevin McCarthy has met with the President of Taiwan Tsai Ing-wen. The two leaders met at the Ronald Reagan Presidential Library in Los Angeles amid strong objections from China. McCarthy praised the Taiwanese leader and said the meeting had been a boost for global peace. A press conference in LA was attended by Congress members from both sides of the political divide. "I felt our meeting today provided greater peace and stability for the world. America's support for the people of Taiwan will remain resolute, unwavering, and bipartisan," the Speaker said. 
Tsai responded by stating, "We are stronger when we are together." She added that her country was not alone in its efforts to protect its way of life, and she was grateful for the friendship and support of the United States. 
China has reacted with fury to the friendly meeting and said the two leaders were engaged in "acts of collusion." A statement from Beijing said China will "take resolute and effective measures" to protect its territorial sovereignty. The Chinese Foreign Ministry said America had broken its assurances on Taiwan. 
The small island of Taiwan is located around 100 miles from the southeast coast of China. It first came under Chinese control in the 17th century, but it was given up to Japan at the end of the Sino-Japanese War in 1895. It returned to Chinese rule after World War II. Since 1949, Taiwan has been governed by the nationalists who fled China when communists came to power in 1949. China now wants reunification and has placed diplomatic pressure on nations throughout the world not to recognize the island as an independent sovereign state. It is not recognized as such by the United Nations, or most of the world's countries, including the United States. 
President Tsai Ing-wen also met with House Minority Leader Hakeem Jeffries in New York recently. The meetings have been largely informal, though the President will no doubt be boosted by the support of US political leaders as she seeks to prepare her country for a possible invasion by China. 
Copyright 2023, StraightNews.org