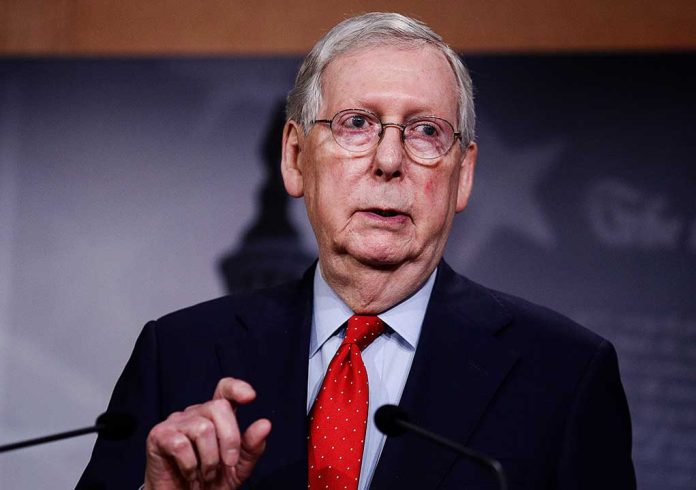 (StraightNews.org) — Senate Minority Leader Mitch McConnell was hospitalized recently following a fall in his hotel room in Washington, DC. He suffered a concussion and a rib fracture but was discharged days later and will now undergo physical therapy. David Popp, communications director for McConnell said, "At the advice of his physician, the next step will be a period of physical therapy at an inpatient rehabilitation facility before he returns home." The incident reignites recent discussions about the age of US lawmakers and whether they are fit and strong enough for the high-pressure world of politics. McConnell is 81 years old.
Following his fall, several commentators took to Twitter to wish him well, but some also said that it was time for him to retire. Former congressional candidate Laura Loomer wrote a scathing tweet saying that elderly and feeble politicians in Washington are wasting seats that could be taken by "patriots who are physically and intellectually superior" to many of those currently walking the halls of power.
The tweets added support to recent concerns about the age and fitness of a variety of senior political figures, including President Biden. Several polls last year revealed that Democrat supporters did not want Biden to run for the White House in 2024 and the primary reason cited was his age. On November 5th, 2024, when the next election is held, Biden will be 81 years old and Donald Trump will be 77.
Republican Presidential candidate Nikki Haley has made youth a part of her campaign strategy. She said that America needs a new generation and that politicians over the age of 75 should face mental competency tests. Donald Trump agreed with her, but went further and said all political leaders should face the same test, regardless of age. New York Rep. George Santos, who admits to lying in his election campaign, has introduced a bill stating that the President should face the competency tests on an annual basis.
Copyright 2023, StraightNews.org