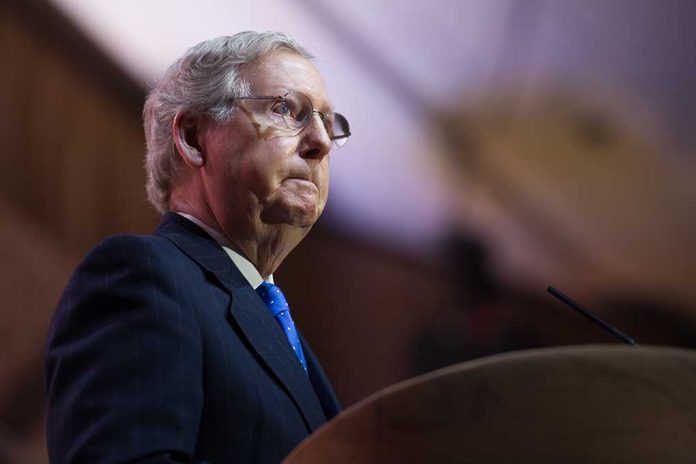 (StraightNews.org) — Senate Minority Leader Mitch McConnell has booted his rival Rick Scott from the influential Senate Commerce Committee. Floridian Senator Scott challenged McConnell's leadership following the party's disappointing results in the November midterms last year. Scott was supported in his leadership bid by Senator Mike Lee of Utah. The Minority Leader has now removed them both from the committee. "McConnell got to pick. He kicked me off; he kicked Lee off," Scott said.
The move will undoubtedly be seen as a warning from McConnell, who is the longest-serving GOP leader, having served for 15 years. When the Republicans did not do as well as expected in November, Senator Scott, who has a long history of disagreement with McConnell, said, "I'm running for leader. I'm not satisfied with the status quo and so I think we ought to have an option."
The midterm results have caused significant division among Republicans with some blaming Donald Trump, while others blame McConnell and similar key figures.
Scott said in 2021 that he had heard numerous complaints about how the Senate is run and that there was pressure on Senators to vote against their beliefs or against the interests of their constituents. McConnell responded at the time that the reason for lackluster results was poor candidates, while also reminding the press that he had not foreseen a big win for his party. "I never predicted a red wave. We never saw that in any of our polling in the states that we were counting on to win. There was no wave," he said.
The Senate Commerce Committee has a wide remit and is responsible for overseeing matters concerning interstate commerce, plus policy on science, technology, and transportation. It is one of the largest Senate committees, with 27 members in 2022, and exercises jurisdiction over matters that vary from the Coast Guard to sports. It is chaired by Democratic Senator Maria Cantwell of Washington.
Copyright 2023, StraightNews.org