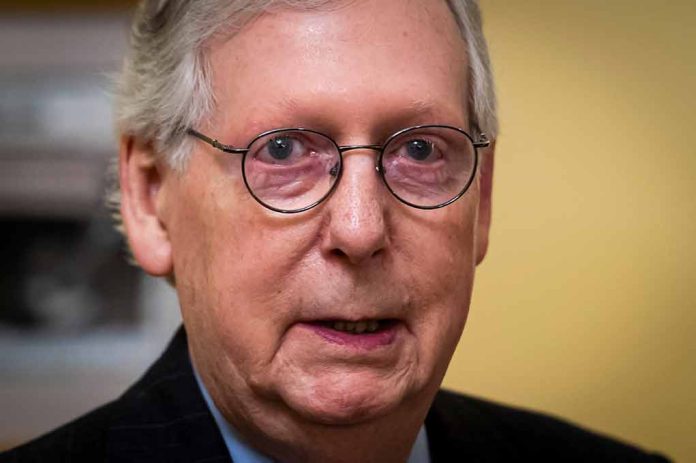 (StraightNews.org) – Mitch McConnell's future in the Senate is again under the spotlight thanks to his recent public health scare. The leader of Republicans in the Senate, and the longest-serving GOP leader, McConnell froze while speaking to reporters on July 26 and stared blankly into space for several seconds before fellow GOP members led him away. The Kentucky Senator returned to the press podium after a 10-minute absence and said he could continue.
The incident will spark more debate about the age of politicians on Capitol Hill, mainly as it's the second health scare involving Mitch McConnell this year. The 81-year-old was hospitalized in March following a fall that caused a head concussion. He also fell at his home in Kentucky in 2019, breaking a shoulder.
The Republican leader has a long history of serious health concerns – he had polio as a child and underwent triple heart bypass surgery in 2003.
Speculation about his retirement circled Washington in March after his fall, and this has started up again this week. However, McConnell appears dismissive of any notion of departing from the Senate and has downplayed the incident.
Meanwhile, a Democratic Senator suffered a similar episode. Dianne Feinstein, who was absent from Congress for months earlier this year due to illness, appeared not to understand that she needed to voice her vote at a Senate Appropriations Committee on July 27. When asked to say "Aye" or "Nay," Feinstein didn't answer, leading an aide to prompt her three times before she finally expressed her preference. At 90, Feinstein is the oldest person on Capitol Hill.
Age is becoming a significant issue in US politics, with more Americans saying they worry about the ability of senior political figures to carry out their roles effectively. The greatest concern surrounds President Biden, who, at 81, is the oldest-ever inhabitant of the White House. Polling consistently finds that Democrat voters are worried that Biden, if re-elected, will be 86 at the end of his second term in office.
Copyright 2023, StraightNews.org