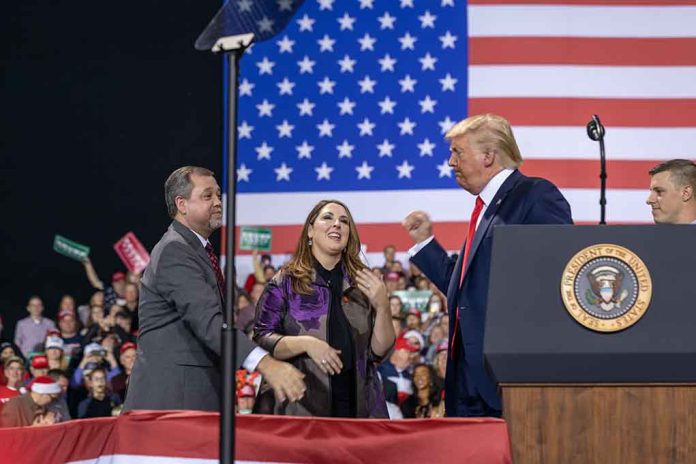 (StraightNews.org) — Candidates for the chairmanship of the Republican National Committee (RNC) could be facing an uphill struggle as current chairwoman Ronna McDaniel says she has the support of the party's top donors. In a letter from around 150 donors, she is described as having led the Party with integrity and exercising good judgment.
McDaniel is running for her fourth consecutive term in the post but faces challenges from fellow Trump allies Harmeet Dhillon and MyPillow CEO Mike Lindell. She was Trump's choice to chair the committee following his election to the White House in 2016.
The letter goes on to state, "Under Ronna's unwavering leadership, the RNC has made consistent, critical contributions to the Republican ecosystem." It highlights that she had kept her promise to help the Party retake the House and propel Nancy Pelosi to retirement.
However, in the wake of disappointing midterm results last November, some fingers were pointed in McDaniel's direction. Rep. Lee Zeldin (R-N.Y.) called for new leadership. "Change is desperately needed, and there are many leaders, myself included, ready and willing to step up to ensure our party retools and transforms as critical elections fast approach, namely the 2024 Presidential and Congressional races," he said.
McDaniel faced a further setback as 2023 got underway when Alabama's GOP cast a vote of no confidence in her. In response, Harmeet Dhillon reached out to the Alabama Party, specifically addressing her Sikh faith. She noted the concerns of some party members that conservative Christian voters may not welcome her. Dhillon pointed out that the Founding Fathers had prioritized religious liberty. In doing so, she received the support of black Alabama Republican and former secretary of state candidate Chris Horn who said, "So she's a Sikh. What does that mean? How does that impact policy? Maybe she would be an awesome, great, and wonderful chair," he said.
Copyright 2023, StraightNews.org