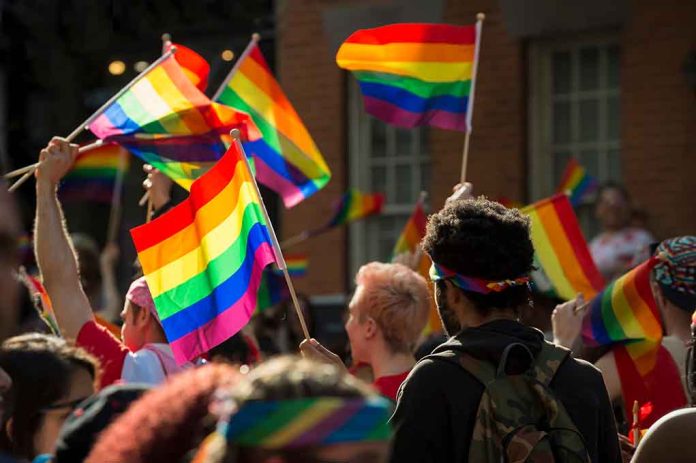 (StraightNews.org) — Conservatives are calling out the hypocrisy of major corporations for promoting Pride in the West while ignoring it in the Middle East and elsewhere. Major firms such as Mercedes-Benz, BMW, BP, and Pfizer have altered their Western Twitter accounts to incorporate Pride colors, while their Middle East accounts remain unchanged.
One Twitter user named "End Wokeness" showed the different accounts side by side and wrote, "It's that time of the year again.."
Comedian Leo Kearse tweeted, "Corporations: celebrating pride where it makes them money, not celebrating it where it doesn't."
Human Rights Campaign, a group that campaigns for LGBTQ rights, said the reason is the attitude toward gay people in the Middle East is very different, and in some countries, involvement in gay relationships can even result in the death penalty.
The global rights group Human Rights Watch documents the attitude toward same-gender relations in middle eastern countries, and there is near-uniformity that such relationships are criminally sanctionable. According to the organization, Islamic law – or sharia – is the primary source and justification for these restrictions.
In Yemen, Iran, Brunei, Mauritania, Nigeria, Qatar, Saudi Arabia, Afghanistan, Somalia, Sudan, the United Arab Emirates, and Pakistan, intimate relations involving the same gender, particularly men, can result in an often brutal death sentence. Punishments include stoning to death and hanging.
The government of the East African nation Uganda was criticized by some Western politicians recently when it passed one of the world's strictest anti-LGBT laws. Punishment includes the death penalty.
The move prompted President Biden to issue a statement on the relationship between Uganda and the US. "We are considering additional steps, including the application of sanctions and restriction of entry into the United States against anyone involved in serious human rights abuses or corruption," he said.
Uganda is one of thirty African countries to criminalize gay relationships. These include Libya, Algeria, Gambia, Sierra Leone, Zimbabwe, Ethiopia, Kenya, Chad, Cameroon, and Egypt. South Africa, by contrast, was the first country on the continent to legalize gay marriage.
Copyright 2023, StraightNews.org