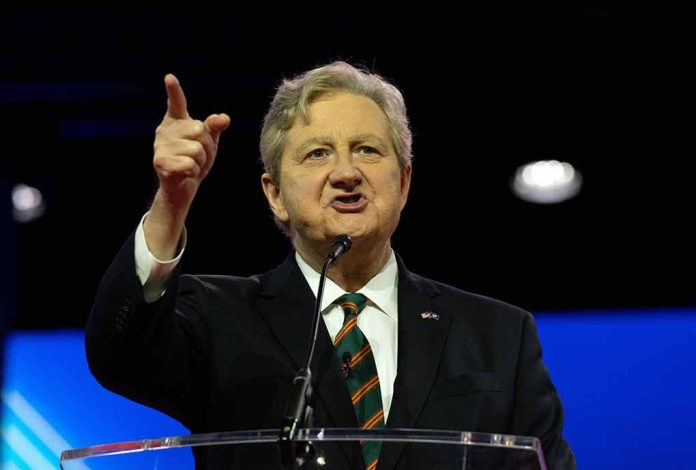 (StraightNews.org) — Mexican Ambassador to the United States Esteban Moctezuma lashed out at Senator John Kennedy for remarks he made at a recent Senate hearing. The Republican Louisiana Senator grilled Drug Enforcement Administration (DEA) Administrator Anne Milgram and encouraged her to agree with his statement that, without America, Mexican people would be "eating cat food out of a can and living under a tent behind an Outback."
His remarks prompted outrage from Moctezuma, who accused the Senator of racism. In a two-page letter to Senator Kennedy, Moctezuma said the people of Louisiana were not represented by the "vulgar and racist" words he used.
The Ambassador then set out to educate Senator Kennedy on the relationship between the US and Mexico. He said that 2 million Americans live in his country, 33 million visit annually as tourists, and trade between the nations is worth about $800 billion per year.
Moctezuma went on to declare that the state of Louisiana benefited significantly from its relationship with Mexico. He said that in 2022, Louisiana exported $40 billion worth of produce to Mexico while importing goods to the value of $15 billion. This trade creates jobs that support 70,000 families in the Pelican State, he said.
Finally, he added that he needed to explain to Mexican citizens that the Senator is not related to the family of former President John F. Kennedy, who he said remains a popular figure south of the border.
Mexico's foreign affairs secretary, Marcelo Ebrard, also condemned the Senator's remarks. He called Kennedy a "profoundly ignorant man." President Andrés Manuel López Obrador urged Mexicans living in the United States not to vote for politicians with this "foolish mentality."
Senator Kennedy was also criticized for encouraging the US government to utilize the military to take down drug cartels. In March, the Mexican government hit back at Secretary of State Antony Blinken and denied his claim that the powerful criminal enterprises run parts of the country.
Copyright 2023, StraightNews.org