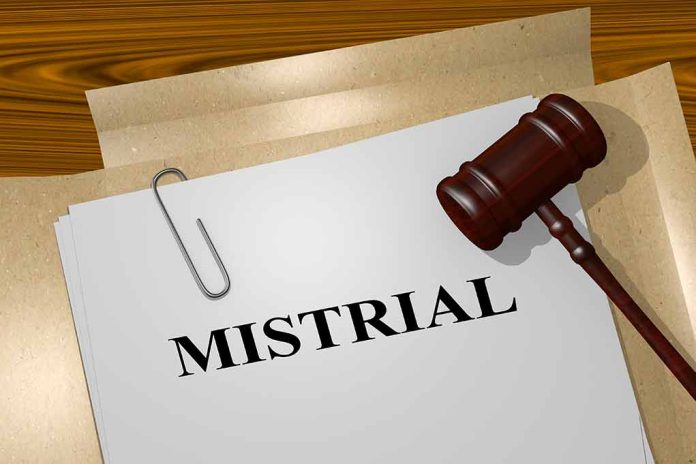 (StraightNews.org) – The judge overseeing a Mississippi attempted murder case has declared a mistrial amid accusations of racism. Police error is the official reason for ending the trial in a case that could inflame racial tensions in the Magnolia State. Father and son Brandon and Gregory Case, who are white, were charged with conspiracy and attempted first-degree murder when black FedEx driver D'Monterrio Gibson was shot at while driving his van in January 2022.
Gibson was not hurt in the incident, but video footage posted online prompted complaints of racism in the town of Brookhaven, about an hour south of the state capital Jackson.
The incident occurred in early 2022 when Mr. Gibson was delivered packages in Brookhaven. Brandon and Gregory Case allegedly chased him in their pick-up truck and fired at his van. They turned themselves over to the police days later.
Judge David Strong said the trial could not proceed because of serious errors in police testimony and procedure. Det. Vincent Fernando did not hand over videotape evidence of initial interviews with the suspects to attorneys on both sides of the case and gave improper testimony under oath about shell casings allegedly found at the suspects' home. "In 17 years, I don't think I've seen it," the judge said of the police conduct.
The incident immediately drew parallels with the Ahmaud Arbery case in Georgia in 2020. A jury convicted father and son Travis and Greg McMichael, along with neighbor William Bryan, of killing Arbery in a case defense attorneys said was justified because of Arbery's alleged criminal behavior. In their pick-up truck, the three defendants pursued the victim through the neighborhood of Satilla Shores.
Defense lawyers said the defendants chased the victim because they believed he was guilty of a crime and the shooting only occurred during a subsequent tussle over a shotgun. The killing took place only weeks before the death of George Floyd in Minneapolis sparked nationwide protests and rioting.
Copyright 2023, StraightNews.org