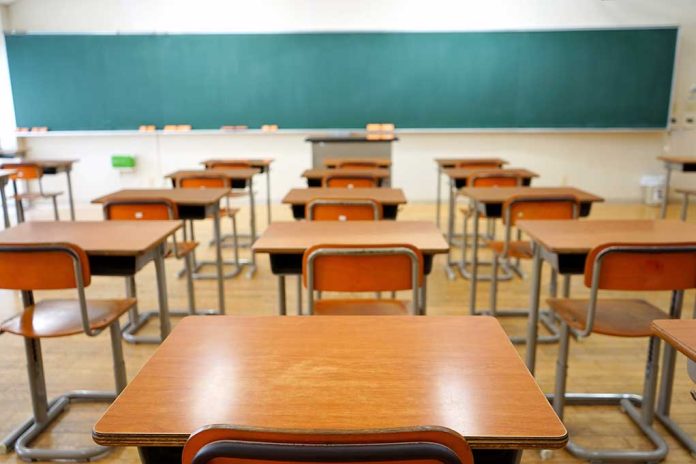 (StraightNews.org) — The mother of a 6-year-old who shot his teacher has been arrested. Deja Taylor turned herself over to law enforcement in response to an outstanding warrant. She has been charged with felony child neglect and recklessly leaving a loaded firearm to endanger a child.
The incident occurred in January at the Richneck Elementary School in Newport News, Virginia. Teacher Abigail Zwerner was shot in the hand and the chest by a pupil while lessons were underway. Police said they would not charge the child with an offense, but Newport News Commonwealth's attorney Howard Gwynn said he would consider charges against his parents. Taylor, 25, was subsequently indicted by a grand jury.
Following the shooting, Zwerner said her immediate concern was for the children terrified by the gunshot. While injured, she led the children out of the classroom before collapsing with injuries to her lung. "I thought I had died," she said.
In January, teachers came forward to say that they had warned administrative staff members that the 6-year-old had brought a gun to school and threatened other pupils, but their warnings were ignored. One teacher said the school administration was "paralyzed by apathy" and did not call the police or remove the child from the school.
Abigail Zwerner's attorney, Diane Toscano, told reporters that the teacher intends to sue the school for these failings. "On that day, over the course of a few hours, three different times — three times — school administration was warned by concerned teachers and employees that the boy had a gun on him at the school and was threatening people. But the administration could not be bothered," the attorney said.
It is rare for a young child to be implicated in violent crime, though not unprecedented. David Riedman, the founder of the K-12 School Shooting Database, said three shooting instances involving 6-year-old children had occurred since 1970. These are included in the total figure of 16 such incidents involving children under 10.
Copyright 2023, StraightNews.org