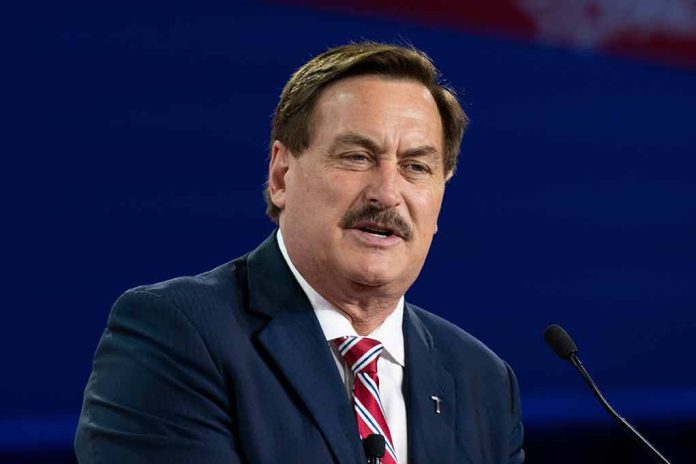 (StraightNews.org) – MyPillow CEO Mike Lindell is selling off equipment and vehicles after reporting a $100 million fall in sales. He's auctioning more than 800 items, including pillow-making equipment, a van with "a cracked windshield," and laptop computers. The businessman said he was selling the items because he wants to change course and implement a direct-to-consumer business strategy.
"We have all this retail stuff. The retailers have abandoned us. What are we supposed to do, everybody? Just paperweights there? No, we are auctioning it off," he said in a Facebook post.
Lindell blames the drop in sales on his support of former President Donald Trump and for agreeing with Trump that the 2020 Presidential election was rigged. He also faces a hefty lawsuit filed by Dominion Voting Systems, which settled out of court with Fox News for a similar defamation claim. Dominion is suing Lindell for $1.3 billion.
His legal woes however have not interfered with his support for Trump and he continues to maintain that the 2020 election was "one of the biggest crimes in history."
After the FBI raided the home of President Trump last August, Lindell said the federal agency seized his phone and he intended to sue them for breaching his Constitutional rights. Lindell uploaded a copy of a subpoena saying his phone was confiscated as part of a warrant for records related to the "authorization or lack of authorization to damage or modify any Dominion computerized voting system."
Around the same time, the controversial CEO announced that he would fund a series of lawsuits to prevent the further use of voting machines in future elections. He said votes should be counted by hand and witnessed. Lindell added he is determined to ensure the integrity of all future election results and this can only be done if voting machines are melted down and turned into prison bars to lock up all of those allegedly involved in stealing the 2020 election.
Copyright 2023, StraightNews.org