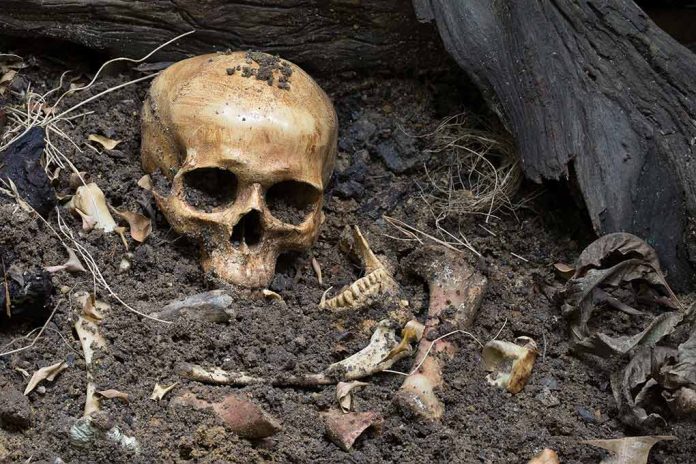 (StraightNews.org) – FBI agents have uncovered a network of dealers in human body parts in the United States. Forty human skulls were discovered in a Kentucky apartment in July, owned by James Nott, whom the FBI has linked to a group of people accused of buying and selling human remains stolen from Harvard Medical School.
Agents found the skulls strewn around Mr. Nott's apartment, along with spinal cords, femurs, and hip bones – he reportedly used Facebook to sell the body parts. In 2012, Nott was convicted of possession of an unregistered destructive device when he was found with materials that could be used to assemble an explosive. He is, therefore, not allowed to hold firearms, so police detained him on weapons possession charges.
The story began last year when law enforcement officers in Pennsylvania were alerted that Jeremy Pauley, a resident of East Pennsboro Township, had human remains in his home. Police investigated and found organs and skin. The FBI was brought in on the case and Pauley told them that there is an association of people across the US who trade human remains, and one of these people is Cedric Lodge, who works at a morgue at Harvard and allegedly stole body parts to sell on.
Law enforcement discovered the network online which included both Pauley and Nott. Using the name William Burke, a serial killer in Scotland in the 1800s, Nott sold body parts on Facebook as recently as this summer. The FBI is now holding him after discovering several weapons at his home, including AK-47 rifles.
Nott and Pauley are alleged to have struck a friendship on Facebook and discussed selling the human remains – Nott also sent photos of his haul of skulls to Pauley.
Meanwhile, Cedric Lodge was one of six people arrested in June for stealing body parts, including heads, brains, and skin, and selling them on the internet. Five of his customers were also arrested, including Katrina Maclean, who purchased two dissected faces for $600 each.
Copyright 2023, StraightNews.org