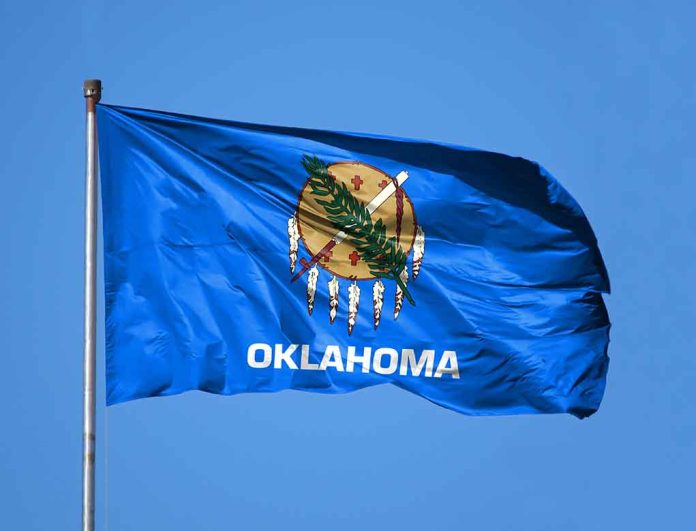 Tragedy Strikes In Oklahoma, Sparks Massive Evacuation Measures
(StraightNews.org) – Many American summer afternoons are spent by the pool, tossing a football, or enjoying an outdoor barbeque. However, for residents of Medford, Oklahoma, those plans were quickly thrown out the window when residents had to evacuate after a nearby local natural gas factory burst into flames.
On Saturday, July 9, a fire started at the ONEOK natural gas plant, with multiple large bursts of flames that ravaged the facility. Officials quickly evacuated everyone within a two-mile radius of the plant in case fumes or fire were to spread. They also closed off nearby highways to traffic.
🚨#BREAKING: Massive explosion at a natural gas plant in Oklahoma

Right now Multiple authorities are responding to a massive explosion at a natural gas plant in Oklahoma GCSO is asking all residents living south of Main Street to evacuate immediately pic.twitter.com/DzNFb2Akso

— R A W S A L E R T S (@rawsalerts) July 9, 2022
As of Monday, July 11, officials had not announced the cause of the fire or detailed the amount of damage done to the ONEOK facility. However, no injuries were reported and the evacuations were minimized to just a one-mile radius of the plant on Sunday night.
ONEOK Manager of Communications Brad Borror told Enid News the company was using drones to investigate the facility and the cause of the fire until it is safe to enter on foot. The company also reassured its workers they will not lose their jobs during this time, but rather transition into various temporary "responding-to-the-incident" positions.
While the safety protocols in place kept this event from turning into a deadly disaster, there are still many unanswered questions about just what occurred to cause such an explosive fire.
Copyright 2022, StraightNews.org