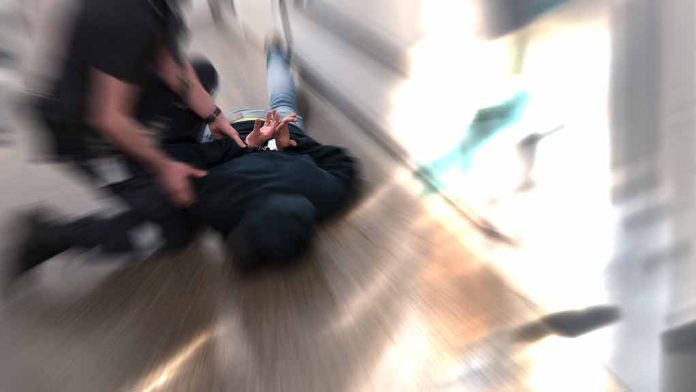 (StraightNews.org) – Nine corrections officers in Memphis, Tennessee, have been indicted over the death of a black inmate. The incident occurred last October in Shelby County when 33-year-old inmate Gershun Freeman died from injuries allegedly sustained during an altercation with officers.
Freeman was in jail awaiting trial for allegedly kidnapping and attacking his girlfriend. Video footage shows him running naked toward officers as they were distributing meals – he is thrown to the ground, punched, and pepper sprayed. He died in the fray, and the West Tennessee Regional Forensic Center has listed the death as a homicide.
However, Shelby County Sheriff Floyd Bonner is adamant that his officers did not cause Mr. Freeman's demise. "Let me be clear. No action — no action — by any Shelby County Sheriff's Office employee caused Mr. Freeman's death," he said. The Sheriff added that Freeman had "psychosis and cardiovascular disease and died of a heart attack while being restrained."
The officers involved have not been named, and the indictments remain sealed. However, the New York Times reports that two deputies were charged with second-degree murder and seven with aggravated assault.
The incident comes at a time of increased racial tension in the Volunteer State following the police killing of a black man in Nashville in January. Five police officers were charged with various offenses, including second-degree murder, and they pleaded not guilty at a hearing on September 21. All of the officers involved are black, but the incident still resulted in protests about police brutality and "systemic racism."
CNN commentator and attorney Van Jones said a white judicial system was responsible for police brutality against black suspects, including when it involves black cops. Jones wrote that the race of the victim, rather than the perpetrators, determines "whether racial bias is a factor in police violence." He added that anti-black bias affects black police officers as much as white.
The Nashville officers will go on trial next May.
Copyright 2023, StraightNews.org